Saw VI

Let's set the stage.
October 2004 and I take a girl I met at Vintage Stock to see Saw. I already hate the film because I have to tell people I'm going to see Saw or that I saw Saw. It's an unwieldy bullshit set of words. How are you supposed to say them and not sound like an asshole? "I'm going to witness Saw." It's not a stigmata, though the point of the series seems to have evolved into involuntary self-flagellation.
So I'm driving a shitty Nissan and we see the movie. She liked it and I didn't. It was sort of a Se7en rip off, but it was the lack of really well designed kills (aside from the ceiling shotguns) and the laugh worthy sight of a puppet on a tricycle delivering Jigsaw's now iconic line, "I'd like to play a game", that had me wondering how long it would take to be over. We probably should have gotten drunk first (hindsight remains 20/20). We briefly debated Saw's relative merits and I took her back to the Vintage Stock parking lot. When we talked again she was telling me about her long distance boyfriend in West Virginia.
I haven't seen a Saw film since.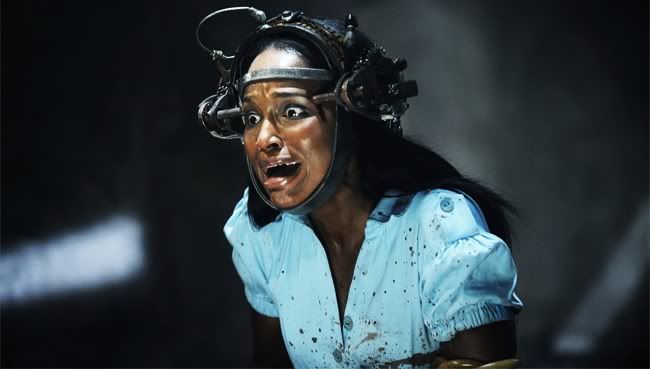 Apparently a lot happened. At least four films worth of stuff. And so, because I have to see the seventh film, Saw 3D, I decided to watch the sixth, my first in as many years. And then I had to hit Wikipedia.
Jigsaw (Tobin Bell) has been dead of his cancer for the last three flicks but gained followers that came to support his conceited cause. The first was Shawnee Smith's character, Amanda, which escaped me because I never saw Saw II. Thanks to Wikipedia I know that Saw III takes place in the same time frame and it all ties together with Saw IV. Between those Roman numerals we get Costas Fucking Mandylor, without a doubt the poor man's Don Johnson, a detective investigating the crimes of Jigsaw and who has also become a part of Jigsaw's game in order to save his daughter (who dies anyway and fuck you if you care).
Others live and die as well, including Marky Mark's brother, then come back again which is weird because watching Saw VI was like when I stopped watching Lost for two seasons and started again. All kinds of shit happened yet the same situations were still ongoing.
So anyway, Saw VI opens with a typical game scene between two people that were really just douchebags to begin with because they were screwing someone out of something. I guess at some point Jigsaw's murderous puzzles became acts of psychological philanthropy. The idea today is "a pound of flesh" and the trapped Red Shirt able to cut off enough pieces of themselves and deposit the chunks on a scale in a minute gets to live, and presumably re-think their approach to life.
The survivor is interviewed by The Worst Fucking Actor on Earth Named Costas Mandylor and Not Christopher Lambert (Det. Hoffman) who is actually behind the gruesome lessons. It's a prelude to the main plot involving the insurance company that denied Jigsaw's dead ass coverage. I shit you not, Saw VI is topical.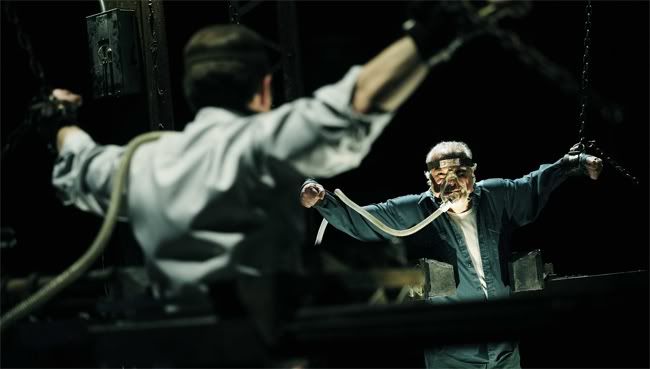 So we follow the trails of William Easton (Peter Outerbridge; whose last name sounds like a series of fantasy novels), a mid-level policy killer working for a greedy insurance company. He, with his team of opportunistic assholes, work night and day to deny coverage to people that will die without the help they thought they paid for. Easton is kidnapped and taken to Jigsaw's bizarre, posthumous, house of traps where he's made to navigate a series of tests that end in other people dying if he's lucky. It's all in order to see his family again, who have also been kidnapped and are held in cells with fire sprinklers ready to spew flesh melting acid on them if Easton doesn't navigate his tests in time.
The Saw franchise was already tired, and what was amazing about Saw VI, despite its breviity, was how it was tiring even though I skipped four movies. How these haven't become a SyFy Channel series yet I'll never know since Saw VI possesses all the traits of a cheaply made, straight-to-DVD name grab. These films have always been based on low overhead but even the first one had a cinematic sense and I'm told Saw II was actually kind of good. But the same could be said of the first couple of Hellraiser flicks. They spawned into nine films, mostly on video. Saw VI feels that cheap and tossed off while constantly tying its events back to its own overly self-important mythology.
Pretty much everyone in the film is a dick so there's no one to root for and all you're left with are the death games which, despite my missing most of the series, feel underwhelming compared to the highlights I've seen from the previous films. No pits of hypodermic needles or vats of guts. Instead the gags are almost all mechanically based and telegraphed from a mile off (during the Merry-Go-Round my assurance that two women would live was born out). They feel like video game levels and, as something meant to top itself, Saw VI doesn't seem to up the ante on its predecessors.
The acting is B-rate, even before the Mandylor Factor, and the direction by first timer Kevin Greutert is workman-like at best though he seems to make the most of his budget. He's also at the helm of Saw 3D so I guess I'll have the opportunity to see if he gets any better. But outside of the extra dimension making Saw suck for a higher ticket price, and unless Jigsaw has some beyond-the-grave plans to kill Jewish newborns crying for their mothers while they crawl through a mini-Auschwitz then I can say I have no confidence in this, the shittiest long-running horror series since The Doodlebops.
It's still not as bad as Twilight.
4 0f 10
Last Updated on Thursday, 04 November 2010 09:15



How Do I Delete You?

Written by Joe O'Shansky
Wednesday, 06 October 2010 07:04
Hello.

It's been a while. My name is Joe. O-name wa? Never mind. I just wanted to let you know that as soon as I figure out how to erase the movie news articles and sort my archived reviews, there will be...more reviews.

There are actually quite a few films I would have loved to write about during the course of my year at UTW. I never wrote about Inception, easily the best film of the shittiest and hottest summer since Nagasaki. Never wrote about The Slammin' Salmon; one of the funniest comedies of the year (The Other Guys and MacGuber being the others). I'd love to try and describe the unfuckingbelieveable fight choreography in Undisputed III or relate the fetishistic joys of the best vampire flick I've seen this year, Thirst. I did write about The Human Centipede, see that here. But I'm OCD. I need to clean the shit out of the nest.

And I decided movie news was useless. Not just for JE, but in the grander sense. I actually feel bad for web guys that chase the trades and prowl 70 different quasi-movie related websites a day just to post a couple of hundred words around some cut and pasted conjecture about how maybe the chick from Caprica might get cast as Wonder Woman. If I'm going to spend time writing here it won't be about upcoming pictures, phantom casting based on Emma Stone's Tweets, or posting trailers.




Big Fan

Written by Joe O'Shansky   
Friday, 22 January 2010 07:39

I'm a Giants fan. I suppose that's relative, though. I mean, I root for them. Being a born New Yorker I'll always root for The Giants. The Yanks, too. In the absence of them in a playoff or series, I'll default to The Jets and Mets. I hate Texas, so that makes me a good Oklahoman. But my allegiances are loosely held. I don't know stats, scores, divisions, or even the names of all the players. I'm not really a fan.

Fans know everything about the source of their fandom, in any realm. Sports fans love their team more than any other, know the politics, listen to Sports Talk constantly, and are more likely to say "we" when referring to their teams performance. They buy the gear, they go to the games, freak the fuck out when a touchdown is scored and generally feel most alive during the season. And those are sports fans with actual lives.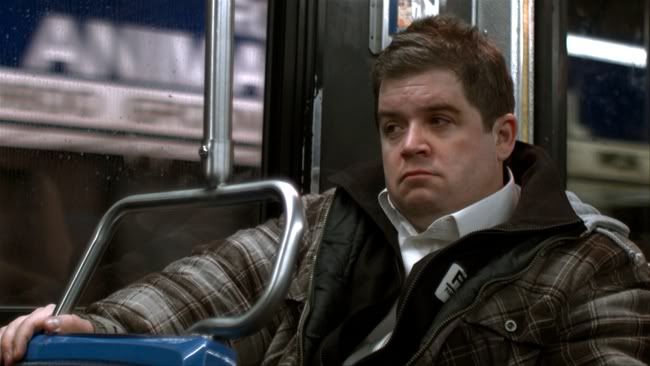 Big Fan follows Paul Aufiero (Patton Oswalt), a rabid New York Giants fanatic and parking garage attendant. Paul spends his time listening to sports call-in shows and writing down his responses to recite after he gets off of work. At 36, he lives in Staten Island with his mom, who frequently admonishes Paul to keep quiet when he's calling in his (deserved) late night radio rants against the Philadelphia Eagles and his AM arch nemesis, Philadelphia Phil (Michael Rappaport), another one of these fucking lunatics who calls local New York sports shows to start a flame war.
Paul's family berates him for his lack of ambition and general loser-hood but he has a best friend, Sal, (Kevin Corrigan), an equally obsessed Giants fan who's principle achievement in life seems to be a laptop that can access the internet. They are both fans of the Giants star player, Quantrell Bishop (Jonathan Hamm), who I'm guessing is the fictional QB.

Quite by accident one evening, Paul and Sal spot Quantrell Bishop and follow him to a Manhattan strip club where Paul is determined to meet his idol. Quantrell is swimming in drinks, ho's, and a posse, so when Paul and Sal timidly introduce themselves all is initially good, until Quantrell realizes he's been followed. He immediately beats the shit out of Paul within an inch of his sorry ass life.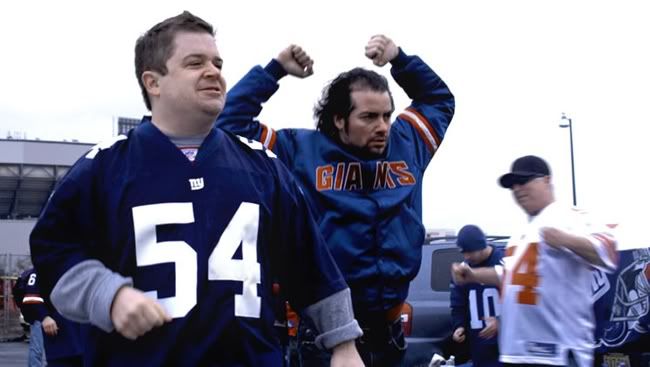 Big Fan is a comedy, but Patton Oswalt plays Paul closer to the damaged ID of Travis Bickle. It's an unfair and rather dark comedy since Paul is only representative of a certain kind of fan: the possibly mental slacker who defines their personal worth based on the success of their chosen idols. The laughs are rueful.
Written and directed by Robert D. Siegel (The Wrestler), Big Fan is a great character study in the vein of the American New Wave of the early '70's. Patton Oswalt sinks into the role to the point you forget about the fact you're seeing one of the best stand up comedians alive become this sad misfit. That's why it works, too. Oswalt understands the geek/obsessed mentality. Paul isn't unhappy. He loves his routine and the refined nature of his interests. He doesn't see why other people's expectations should make a difference at all. Expectations complicate his life when all that matters is a winning season.
Oslwalt is a revelation in the role. I've always had a firm belief that a really good standup comedian can't help but be a good actor. One that can plumb the depths of hilarity and despair. The genesis for that theory was Robin Williams (fuck you, watch The World According to Garp), and Oswalt bears that out here. Inhabiting a character like Paul might be easy for him, but it's not easy to pull off without losing the audience entirely. You wind up rooting for Paul even though he's clearly fucked in the head. Oswalt's portrayal of him is the cornerstone of the film.
The script is a cornucopia of truisms about fandom that any sports geek will love, and the resultant film feels like a conglomeration of old '70's aesthetics combined immediacy of a Mamet play--small and personal, and entirely about absolving guilt. That's no bullshit either. The questions this flick examines about the nature of fandom are ones the industry doesn't want considered, much less answered.
Michael Vick.
8 0f 10

 

 

Last Updated on Monday, 30 August 2010 14:53


Drag Me To Warcraft

Written by Joe O'Shansky   
Thursday, 14 January 2010 16:10
Just started watching 48 Hrs. on Netflix streaming. Fuck Beverly Hills Cop. Reggie Hammond rules. And Remar is a badass. Nolte? Better than Nag Champa. "Aww, jeezzuss...".

Anyway, it's been awhile since I've updated--a fact MCP reminded me of. The new gig has occupied a lot of my attention. Writing for the paper is weird and I have to do it differently. It's really only part time, but given the effort I put in it's closer to full and really pays only about minimum wage at that point. My punctuation sucks, there are word counts, and I have an editor who seems a bit tone deaf to my shit. Whatever. On the upside, apparently, Avatar got your money.

So I'm back to drop some news on you that may not be news if you're a Spiderman fan. Sony is scrapping Spiderman 4 and re-booting the entire fucking franchise. This is amazing on a level that could only be described as Leno. Sam Raimi has thus far created three Spiderman films, two of which are good. In fact, Spiderman 2 is legitimately great. Spiderman 3? Not so much, but what it lacked in critical acclaim it more than made up for in box office. In other words, everyone was on board for 4.

Sony famously shoehorned Venom into Spiderman 3, and Raimi famously hated it. Raimi wanted to just focus on Sandman and the more Marvel oriented arc of Peter Parker, while pulling together all of the dramatic threads woven by the first two films. Raimi acquiesced to Venom and as a result, Spiderman 3 left a lot to be desired.

For Spidey 4 Raimi wanted The Vulture as the villain (I have no clue why that's important since I haven't read Marvel comics in 30 years) but Sony wanted something else, and wanted it out in 2011. Apparently, this was too much for someone because what is now happening is a billion dollar franchise, that has another billion left in it based on Raimi's vision, is now being sent back to prequel/reboot territory. A classic example of profit motive raping artistic integrity, which is a fucked up thing to say considering it's a major Hollywood franchise. I'm not even sure why I'm upset. It's just seems like such a myopically retarded move where they'll wind up spending as much money as they wanted to save by 2012 for diminishing quality. Ergo, Leno.

Apparently, Peter Parker's story will pick up while he's in high school. New cast, a new director in the ironically named Marc Webb (who directed the reportedly good 500 Days of Summer). Continuity be damned, Sony wants to make a lot of shitoads of money.

The upside? Looks like you videogame geeks are getting a World of Warcraft flick out of this, directed by Sam Raimi from a script by Robert Rodat (Saving Private Ryan). Never played the MMO it'll be based on, but if you were a fan of Army of Darkness you should probably be frosting your pants right now.

P.S. "Aww, jeezzuss...".

Why Haven't You Seen Drag Me To Hell? on The Boards.

Sources: CHUD, AICN, JoBlo, Slashfilm, Collider, and every other geek movie site ever.


Last Updated on Monday, 30 August 2010 14:45
Avatar Probably Needs Your Money
Written by Joe O'Shansky
Saturday, 05 September 2009 11:01
Head on over to Apple Trailers to get a hi-def look at the kinda new teaser for the really new James Cameron flick Avatar. Click here, and I'll explain after.

I'm not a Cameron nerd. I'm not even over the moon about this trailer. But a little context is in order. The last non-documentary film James Cameron made was Titanic, still the highest grossing film in history. You can lay that on the legions of tween girls who sat through that film dozens of times in a theater. And despite it's three-hour running time, they couldn't get enough of Leo and Kate. Cameron was seriously gambling at the time. With an estimated 200 million dollar budget, and a December release date, for a movie where literally everyone knows the end, it turned out to be a gamble that paid off in billions.

Twelve years later Cameron is taking another significant gamble, and this time I'm not sure how it can succeed on that level. Don't get me wrong. I have some faith that Avatar will be a good film. Cameron has proven nothing more clearly than his ability as an incredibly ambitious and singularly adept director of action films, who still manages to keep you locked into a good story. True Lies is his weakest, and his most Michael Bay-ish film. But while Micheal Bay made Transformers 2 the biggest grossing film of this summer, that 200 million dollar (apparently shitty) film is about to be double-downed by Cameron and Avatar's reportedly 300 million dollar budget. That's not including the minimum 50 million in advertising.

If it seems like I'm emphasizing the budgets over the films, it's because these kinds of numbers can end careers if the flick doesn't play huge, and I'm interested in how the numbers play out. The idea of Avatar has been bubbling around for way over a decade. Cameron has been hyping the new mo-cap technologies for a few years now, and how he was going to use it, in combination with new 3-D technologies, to create the ultimate photo-realistic aliens, and alien environments, ever shined on a screen. And while I have no doubt Cameron, much like George Lucas (who ridiculed Cameron for Titanic's budget, and then made a shitty 125 million dollar Star Wars flick two years later), has pushed forward the horizon of special effects technology by miles, his lackadaisical path in getting Avatar to the screen has already made it less impressive than originally advertised. Just look at the trailer. Granted, the IMAX version of it might kill, but in 2-D, and even HD, this is not groundbreaking work. Cameron has already tried to walk back the hype himself. It still looks cool, though nothing makes me wonder how it was done. And what is slightly more troubling is that the design of the Na'vi and other alien creatures are, for lack of better words, goofy and slightly derivative. The Phantom Menace ominously comes to mind.

But that doesn't mean you're not in for something absolutely badass on December 18th. I have faith in much of the actual talent involved and despite what has been, so far, a bungled ad campaign for the film, I don't think it'll be Lucas' Revenge, even if his arch-enemy, 20th Cenutry Fox, is behind the production. Though that would be ironic. If nothing else I have personally never seen a full-on IMAX 3-D flick and in this regard the technology did have to wait until now for Avatar. It was only a few years ago you could only see hour-long underwater films in IMAX 3-D. Maybe there was a reason for that. I don't have all the numbers. But I'm guessing Cameron's going to fuck with our spatial recognition longer than any director in human history.

Are you a parasitic space organisim that kills Newts? Then get away from The Boards, you bitch!