Star Trek (2009)

Written by Joe O'Shansky
Saturday, 09 May 2009 03:53

I don't consider myself a Trekkie. Leaving aside my love for the original series, the fact I've seen most of The Next Generation, and all of the films, I've still never gone to a Con wearing pointy ears, I don't have a flask of Romulan ale in the cupboard, nor do I speak a word of Klingon. I think in retrospect The Next Generation took itself way too seriously, all the series incarnations after it felt like they were just beating a dead nerd, and that there hasn't been a really good Star Trek movie since The Voyage Home. I was perfectly willing to let it all go and just revel in the joys of The Original Series. So when I heard they were going back to the well for a new film (and yet another "re-imagining"), I imagine there were coma victims more excited about it than I was. And I wonder how much that level of detachment figured into how blown away I was by J.J. Abrams sparkling, slick, and amazingly fun, re-invention of the classic Star Trek for which I apparently still have a pretty deep soft spot.




Abrams, with screenwriters Roberto Orci and Alex Kurtzman, go back to the beginning where we find a Federation starship investigating a strange anomaly in deep space that turns out to be a wormhole through which a huge vessel emerges. The vessel is commanded by a Romulan warlord named Nero (Eric Bana) who quickly disables the Federation ship and coerces its Captain to come aboard to barter for the lives of his crew. Nero is on a search for Spock and when he realizes he's not going to find him, he kills the ship's captain and starts bombing the Hell out of the Federation vessel, the command of which has been left to one George Kirk. Kirk's newfound command is short-lived as he winds up having to pilot the ship to their doom while buying time for the crew (and his pregnant wife) to escape, but not before he hears the first wails of his newborn son who they name James Tiberius.

Flash forward a few years and we find a young Jim Kirk (Chris Pine) trying to get a smoking hot Starfleet cadet named Uhura (Zoe Saldana) to give up a little chocolate sugar and only winding up in a bar fight for his trouble, though he gives better than he gets, handing four rather large guys their asses. Kirk gets read the riot act by Captain Christopher Pike (Bruce Greenwood) about being a hooligan, but a goddamn talented one, and Pike basically shames Kirk into joining Starfleet. When Kirk famously defeats the Kobiyashi Maru test during cadet training, much to the chagrin of its creator, a young Vulcan named Spock (Zachary Quinto), he's brought up on charges of cheating to beat the unbeatable test. Before the trial can come to a conclusion another "strange anomaly" gets everyone into emergency mode, and when the description of it triggers Kirk's memories of his fathers' death (huh?), he finagles his way onto a familiar Starship with the help of a newfound cohort with a big alimony bill and a bad attitude named Leonard McCoy (Karl Urban). Days of High Adventure ensue.

There's more to love about Star Trek than not so I'll get the not out of the way first. The script by Orci and Kurtzman has more holes in it than the Mustang Ranch and Nero is more of a plot device to get the original crew together than he is a fully realized character. Bana is fine in the role mind you but is completely underutilized and it felt as though there was a chunk of his story that went missing entirely (in its time travel conceit Nero's timeline seemingly skips 25 years). It's lazy writing to a degree and considering how much time travel has been used in the shows and in the films you'd have thought they'd have been able to craft a more organic way to use it by now. Coincidence is so heavily relied on as to strain disbelief. Not to get into spoilery territory, but the mid-film reveal of what exactly the fuck is going on jumped through a lot of hoops to make sense, and I'm ultimately not sure it does. I'm not a purist by any stretch but let's just say some major parts of the established Star Trek timeline are pretty much thrown out the window, paradox be damned (not that I know one Stardate from another), one of which I find hard to accept; despite the fact that setting up an alternate reality means they can pretty much do whatever they want. I suppose, to a degree, that adds an element of surprise (I kept waiting for a reversal of events that never came) but it also feels like an easy way out of reconciling what has come before. Needless to say, the Klingon-literate will probably be fuming over the liberties taken with the established reality they've so sadly taken as Gospel.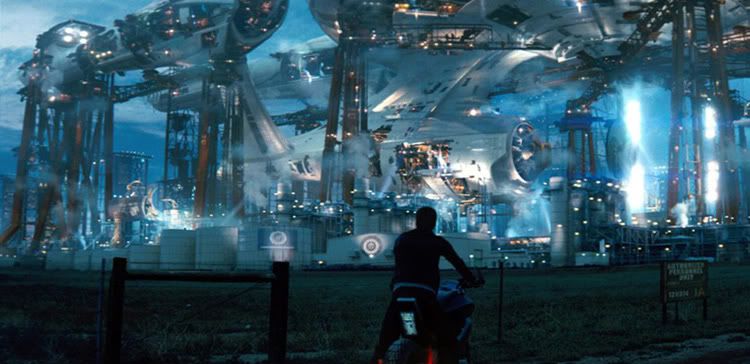 But I think that was rather the point. It's no secret this franchise has been limping for years on sub-par films and ever more marginalized television shows. Between Star Trek and Star Wars, Trek always seemed to attract a more rarefied class of geek. Abrams is trying to make Trek hip again (if it ever was to begin with) and damn it if he doesn't succeed, if only by wrestling it away from the creative hands it had been stagnating under and making a rollicking space adventure anyone with a pulse would dig the shit out of regardless of their attachment (or lack thereof) to the source material. These characters aren't belabored by high minded Shakespearean ideals of a benevolent human future like The Next Generation. They drink, they fuck, they fight, and they're funny and that not only makes them more relatable, but infinitely more likeable. This is Star Trek re-made for everyone, not just the base, and it's hard to over emphasize the improvement.

The cast is great. Chris Pine breaks out here as Kirk. He strikes a great balance between Kirk's alpha arrogance and charismatic swagger, while still keeping the audience on his side with the keen intellect brewing underneath. He takes those known elements of Kirk's character and some of the touchstones of Shatner and makes them his own. That inherent likeability extends to most of the main cast, as well. Karl Urban's performance as Bones actually hews closest to its source actor DeForrest Kelly (R.I.P.), and while I wasn't sure about that choice at first, he's so spot on I actually felt a palpable tinge of sadness tempering something like the joy of seeing an old friend. It wasn't just me either. During a scene when some shit hits the fan, provoking the line, "Damn it man, I'm a physician not a physicist!" the crowd broke into delighted, hooting, applause. It's moments like that when I enjoy the communal element of going to the movies.
Actually, everyone gets a chance to use their signature line at some point and at each time was greeted with warm chuckles of acknowledgement. That was really another cool thing about the way Abrams approaches these characters; re-introducing them, yet playing with their established traits to get a laugh (when Bones first meets Spock after Spock testifies against Kirk his first reaction is, "I like him."), or to underline a dramatic beat. Spock is the source of many of those. Whether butting heads with Kirk, or dealing with his own internal struggles, Quinto imbues Spock not only with Vulcan stoicism, but a barely contained anger. In fact he's sometimes a dick though, like Kirk, he never quite loses your goodwill. From some of the trailers and stills (and Heros) it was Quinto that I had the most reservations about, but he turns in a fine performance, and I genuinely liked what he brought to the table in terms of nuance.
Simon Pegg as Scotty was a blast, but I expected nothing less from him. John Cho is solid as Sulu, bringing his deadpan charm with him back from Guantanamo, and Zoe Saldana delivers on the intelligent hotness quotient. Her love interest was one of the film's bigger surprises. Anton Yelchin lays it on thick as Chekov, sounding more Russian than Boris Yeltsin at a kegger. Each of them gets their moment to shine and bring their specific talents to the fore. While obviously Spock and Kirk are the heart of story, the chemistry they all share is the reason to see this.




The reason to see it on the big screen is the look. Easily the prettiest Trek movie to date, the epic visual scope of the film demands the theater. Abrams has been accused in the past of not being able to break away from his television roots in terms of his visual ability, but he's gotten over that in a big fucking way here. His shot composition and camera work are utterly cinematic and the VFX from ILM recall the glory days of their best model work on Star Wars and Starship Troopers. Not much here that screamed CGI, despite the fact much of it is. A stunning level of attention to detail is afforded to the space battles, ships, and environments, as well as the interiors and lighting. I loved the lived-in yet clean look of the Enterprise bridge (the "designed by Apple" comparisons are apt), and even the minutiae of having lens flaws in purely digital shots. Every frame of this got love and attention and there is a grandiosity to it all, even in Iowa, that is near awe-inspiring. I thought I'd gotten over that but, happily, not. Yes. It brought out some of the kid in me. Abrams direction is practically miraculous considering the scripts significant flaws. He's only getting better and better. It's just too bad he couldn't make Nero a more tangible, layered, antagonist. The music was appropriately epic with a couple of cool surprises, as well.

Aside from some minor gripes I'm already half way in love with this flick. I knew I was in good hands in an early scene where Uhura comes back to her dorm room just in time to derail Kirk from slipping his Tricorder into her green-skinned roommate. That also highlights a difference between this generation and The Last Generation. No one wanted to see Riker get laid.




8 of 10
Last Updated on Monday, 30 August 2010 15:02



Fuck Tom Rothman

Written by Joe O'Shansky
Thursday, 07 May 2009 05:42
I didn't get out to see X-Men Origins: Wolverine last weekend and I didn't even download it when it "premiered" last month on the torrent sites, mainly because I was never interested to begin with. While I really liked the first two X-Men films, and Hugh Jackman's performances in them, I was never attached to the comics, their mythology, or by extension Wolverine and his back story, in the way the real geeks are. When I first heard about the film my reaction was that it seemed like a money grab by a craven movie studio that thinks your wallet is a vagina (the critical reaction seems to bare this out). I also don't know who Deadpool is, but Ryan Reynolds played him in Wolverine, and given it's 70 million dollar + opening weekend, that same craven movie studio that thinks your wallet is a vagina is already greenlighting a Deadpool spin-off film so as to fuck it.

Former (FOX owned) IGN reviewer, CHUD friend, and originator of my screen-captures-in-a-review format, Matt Goldberg has the story with analysis over at Collider. The reason I find it interesting at all is because of Reynolds, who seems to be tracking a strange career path by being the comic relief action star. Aside from cutting bullets in half as Deadpool, he also killed vamps with wise ass remarks in Blade Trinity. The dude has dead-on comic timing, and a ripped torso. That's how you get to fuck Scarlett Johanson.
I'm betting most of you know Reynolds from Van Wilder, but he even turned in a convincing dramatic performance in the never needed Amityville Horror re-make. Regardless, I'll probably see Wolverine when it hits an actual DVD. The film is gonna fall off big with the release of Star Trek this weekend (read my review here on Friday) and you'll be spinning it in your player within two months.

Did any of you geeks see Wolverine last weekend? Does this Deadpool news excite you deeply as an X-Men fan or fill you with revulsion for yet another superhero sequel/prequel/re-imagined/spin-off? Burn Tom Rothman in effigy or self-immolate, whichever is the manner of your people, on The Boards!
Last Updated on Thursday, 07 May 2009 06:11



Like Megaforce With Less Gay

Written by Joe O'Shansky
Thursday, 30 April 2009 23:45
I can't believe I'm willing to give Stephen Sommers another chance to rape my eyes after the assfisting that was Van Helsing but this new trailer for his latest possible atrocity, G.I. Joe: The Rise of Cobra, looks like too much of an ode to Megaforce to pass up. Devin over at CHUD has the embed. Click here to see some crazy shit.

Wouldn't the battle tactics in Starship Troopers have made more sense if they had the Power Suits from the Heinlein novel that the G.I. Joe's seem to have here? Give Rico's Roughnecks a heads up over on The Boards!
Last Updated on Wednesday, 03 June 2009 12:40



Fuck Chuck Norris

Written by Joe O'Shansky
Saturday, 18 April 2009 05:46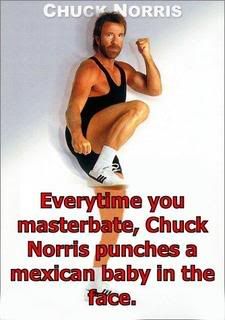 OK this isn't really film news (or any news at all if you think Chuck Norris is an asshole) but I did see it on IMDB so it tangentially qualifies.

I know this crowd is a smart and connected one so I'll assume you've heard about Texas Governor Rick Perry's passive/aggressive dick-waving concerning Texas seceding from the Union because most of the country had the gall to send his party packing (first packing, now tea-bagging, hey, it's a step up if you ask me), and do some silly shit like stop worrying about who's marrying who and vote in their own best interests. Actually that teabagging party that the wrong-wing had on April 15th seemed like a cornucopia of concerns, some of which may have even been valid if they could have kept the wackos out. That would have crushed attendance, though. Point is, some of these "concerns" have a small but vocal group of people advocating for secession from the United States and Rick Perry, prick that he is, seemed to be more than sympathetic to their line of thinking.

So naturally Chuck Norris has taken this to the next logical step and announced a run for the President of Texas. I'm not kidding. From IMDB via a CNN blog post:

"Martial-arts master Chuck Norris has his sights set on becoming more than a Texas Ranger - he has volunteered to run as the U.S. state's (Texas) first president.

Norris, who played TV hardman Cordell Walker in hit series Walker, Texas Ranger, has put himself up for the job of running the region after discussing the possibility of the state seceding from U.S. control during a rant on CNN.com's political blog.

The actor, who is a staunch Republican, insists Texans want an independent state after being let down by the American government - and thinks he'd be the ideal candidate to lead the Lone Star state's revolution.

He says, "I may run for president of Texas. That need may be a reality sooner than we think. If not me, someone someday may again be running for president of the Lone Star state, if the state of the union continues to turn into the enemy of the state.

"Anyone who has been around Texas for any length of time knows exactly what we'd do if the going got rough in America."

Jump ship like a bunch of pussies? Nice.

Bear in mind I'm not actually afraid of Texas seceding in anything but Chuck and Rick' wet dreams, but why aren't we calling them what they are? Traitors. Seditious, treasonous, traitors. When the right is in power and the left is pissed they are told to leave if they don't like it. When the left exercises their right to vote and the reverse becomes reality, the right wants to bolt and to take their slice with them. Typically self-centered infantile bullshit. And dumb. But I guess Norris and his work were never really meant for discerning film and TV viewers or even people who read without moving their lips. That would explain why no one seems to have read the Rassmussen poll wherein a full 75% of Texans seem to disagree with old Chuck and Rick about their willingness to become the leaders of Dumbfuckistan. It would also explain why nobody read the actual Constitution of Texas, which specifically grants Texas the right to break into four smaller States but not secession, a right they did have but was exchanged for the four state solution in an federal accord struck in the 19th Century. But hey, these are just pesky facts. And when did those ever matter to the Chicken-Little's on the Right? And in case you were wondering about the veracity of the poll it's from the right-leaning Rasmussen and was posted (very briefly) on Drudge. Not a place known for it's insidious liberal bias.

So unsurprisingly Chuck comes off as a grandstanding pussy fart, but I have to wonder why these people see themselves as better Americans than guys like me. Granted, I know this all a bunch of smoke and publicity (maybe he's got a picture book coming out?), but I also worry about elements (the fringe, Kenny, calm down) of the radical right and how they are hearing these messages. Some of them seemed unhinged before we elected a black President. They must be foaming at the mouth now. Privately, amongst a trusted few. But the more delirious the rhetoric becomes, the closer to the breaking point someone may get. I can't imagine how much overtime the Secret Service is clocking and the incendiary vomit assholes like Perry and Norris are spewing for purely self-promoting reasons (Perry is running for re-election against a popular Republican woman, Chuck's just jerking off into the cum-soaked rag of his own ego) will just mean more overtime to keep some froggy nutjob from trying to turn back the clock to 1860. You know they're out there.

So that's why Chuck Norris needs to go fuck himself. Hard and often.

That said The Octagon was the shit.
Last Updated on Saturday, 18 April 2009 12:11



Observe and Report

Written by Joe O'Shansky
Tuesday, 14 April 2009 14:18
It's really too bad Paul Blart: Mall Cop had to make as big a splash as it did as close as it did to the release of writer/director Jody Hill's latest film Observe and Report. From an audience standpoint I'm sure it seems like Observe and Report is a too soon re-tread and, while I haven't seen Paul Blart: Mall Cop (there was a missed Torture Chronicle for you), I can say with relative confidence that their respective protagonists probably only have a job title in common. Unless Kevin James played a bi-polar, racist, loon to over a 100 million dollar grosses. Considering his audience that would explain a lot.



Ronnie Barnhart (Seth Rogen, here breaking type in a pretty big way) is introduced as the classic rent-a-cop that takes his job as seriously as a Secret Service agent. He lives with his alcoholic yet well-meaning mother (the great Celia Weston) and harbors dreams of being a real cop. When a serial flasher wags his one-legged octopus at Ronnie's crush Brandi (a fearless Anna Faris), Ronnie's attempts to co-opt the actual police investigation earn him the suspicion and eventual scorn of Detective Harrison (Ray Liotta), a not so hard-boiled law man who becomes Ronnie's fixation in his attempts to join the force. Ronnie has a cadre of underlings who all treat him like a god, notably Dennis (Michael Pena somewhat stealing the show) and the Yuens, Chinese twin brothers that share Ronnie's affection for heavy weaponry and who are willing to lay down their lives in His service ("Yuens, you guys are my infantry. One of you dies, God gave me another one."). When the mall is robbed in what looks like an inside job Ronnie takes it upon himself to solve both cases to prove his worth to Brandi (never seeing how worthless she is), all the people that he perceives as looking up to him, and to feed his own delusions of grandeur.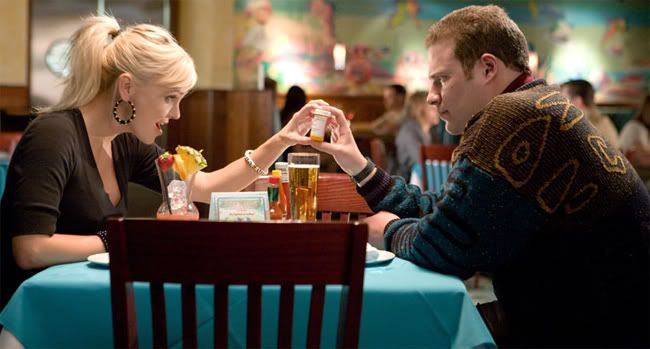 But the thing is Ronnie isn't quite the loser he appears on the surface. Underneath his raging id lurks a narcissism that, when wounded, makes him more capable than anyone might guess. But than that's what surprised me about Observe and Report, so the less said the better. Suffice to say Jody Hill is mining territory that is familiar if you've seen The Foot-Fist Way or the HBO series he co-created with Danny McBride (who cameos here) Eastbound and Down. Textbook rejects coming to grips with their stations in life and in doing so realizing their humanity more fully than those who could be considered "winners". But what Observe and Report has that Hill's previous work doesn't (and I'm betting Paul Blart, too) is a big fucking mean streak. This flick is dark, sometimes ugly, and often hilarious. If you watch Bad Santa every year at Christmas than this flick will probably do you right. If not, stay away, because Rogen isn't playing a cuddly stoner or some some degenerate Lothario. In fact Rogen impresses with the nuance he displays here. Ronnie has a lot of bluster but the wounds lie just under the surface and while some of Rogen's trademark timing is here it's resonating from a different, frankly surprising, place. There's nothing really dramatic about it. The film's overall cynicism makes it feel like a distant spiritual cousin to something like Alex Cox's cult punk gem Repo Man, as opposed to comparable films with the funny guy playing it crazy (The Cable Guy, Punch-Drunk Love).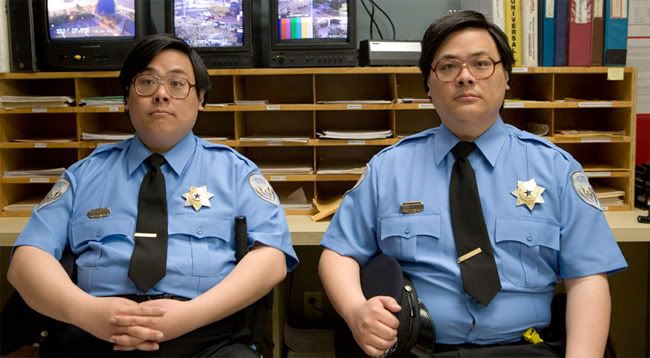 Jody Hill's direction is as assuredly loose as his material is risky which goes a long way towards that Repo Man comparison. He's not afraid to let the story breathe, he'll let seeming tangents take you by surprise, and he doesn't flinch when going for the laugh (though you might). In fact that Bad Santa comparison doesn't just go for the characterizations, or the mall-worker setting, but the tone of Hill's direction. His wry sensibilities remind me more than a little of Terry Zwigoff. Even better Hill picks out a great soundtrack here including Queen's "It's Late" (used to moving affect) and The Band, plus some tasty original pieces, the overall affect of which had me buzzing when I left the theater. Taking in the whole as I walked out I realized I had just seen Observe and Report for the first of what will be many times. There's a lot of deft comedic work and for some of the bigger gags the effect might wear thin on repeated viewings, but it's plain that the film's far more numerous smaller moments and bits will bloom to fill that void. And since it will surely live a longer life on your shelf in a few months Observe and Report might be the first cult film of 2009.