Judge Extracts Laughs

Written by Joe O'Shansky
Thursday, 09 April 2009 06:38
I've loved Mike Judge since the very first time I saw Beavis and Butthead (a show whose influence is [sadly] still felt every time I see a hottie. "Uhhhh...hey, bayba") and the guy can seem to do little wrong aside from working with FOX. While Office Space got a fair shake his follow up, the sometimes brilliant Idiocracy, got utterly shafted by the studio once it realized it was releasing one of the more stinging satires of corporate culture in recent memory (including FOX's own 'news' channel). Judge swore off making movies after that, but I guess that time really does heal all wounds as the trailer for his newest yuckfest Extract has hit the Webs at AICN via their erstwhile comrade Drew McWeeny over at Hitfix. Click here to see the tasty.

The film has a great cast including Ben Affleck, Jason Bateman (cry for Arrested Development), the stunning Mila Kunis (she seriously proved her kung-fu is strong in Forgetting Sarah Marshall), the always awesome J.K Simmons, and Clifton Collins Jr. taking on a high velocity projectile with his nuts. Gotta love that. The film goes wide this Fall.

I need a drink. My hair looks stunning. Buy me a round and parenthetically compliment my sexy ass on The Boards!

P.S. Click here for my original review of Idiocracy (you'll have to scroll down a few reviews). It's not really glowing but the film gets much better with repeat viewings.
Last Updated on Thursday, 09 April 2009 07:59



HIGH VOLTAGE PATTON

Written by Joe O'Shansky
Tuesday, 31 March 2009 07:14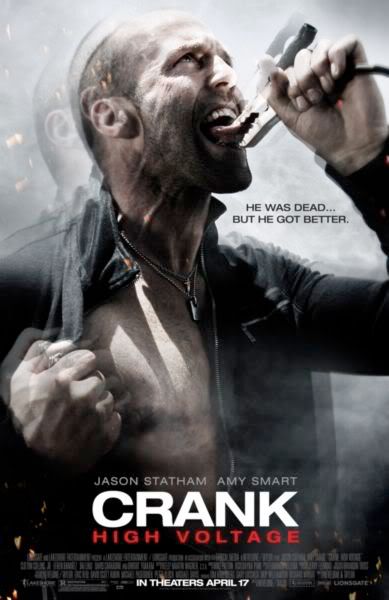 It long ago escaped my mind to pass along the fact that Mike Patton, uber-vocal pioneer and the hardest working man in the Mike Patton business, would be composing and performing the soundtrack for the highly anticipated Crank 2:High Voltage. Actually I'm not sure who anticipates it besides me; I think there are fans of Crank and people that think it's another Transporter movie. Anyway, the news that Patton is on the score should be welome amongst this crowd, and if you haven't seen Crank you should (click here and scroll down to see my review with boosh). Now, Russ Fischer at CHUD has the details about Playlist and thier exclusive track from the score entitled "The Hammer Drops", as well as a couple of cool You Tube clips of Patton's collaborations that make me think me and Russ have something in common. Additionally there are two more tracks on the film's official Myspace page (how fast is that place dying? Twitter = The Execution of the Attention Span) that you can hear here. I was already stoked for the sequel, however unlikely it's existance. The first film was the closest thing an American film has come to Takashi Miike levels of insanity and the addition of Patton to the sequel's soundtrack make this my most anticipated film of the next two weeks. Twitter?

Is Chev Chelios a bad motherfucker? Why isn't Patton's face on our national currency? Ma Meeshka Mow Skwoz over on The Boards!
Last Updated on Tuesday, 31 March 2009 09:17



WALL-E

Written by Joe O'Shansky
Tuesday, 31 March 2009 01:45
I guess I find it fitting that a film whose main themes are seemingly about the downside of sloth and consumerism would be hitting DVD around Christmas. Sure WALL-E is a strange and mostly wonderful science fiction romance, but I am a cynical sumbitch.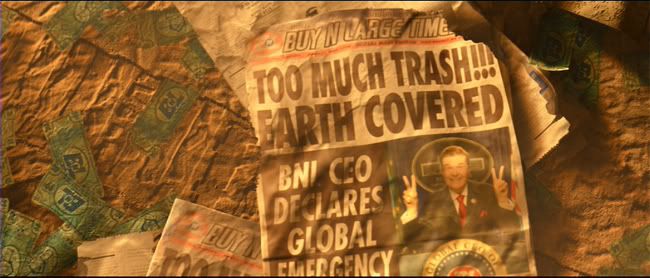 WALL-E is a trash compacting robot, the last of his kind. In the near future the Earth becomes uninhabitable due to everyone being fat, littering, Wal-Mart (here called Buy 'N Large) loving fuckholes, and WALL-E is is part of an army of robots designed to clean up the planet as corpulent humans migrate out into space on solar cruise ships for a five year vacation while the WALL-Es do their thing. 700 years later the Earth is a barren planet whose principal topography is of abandoned skyscrapers and towers of trash that rise even higher, and there is one lone WALL-E left. He goes on about his duties, but the little robot has become a collector of sorts, having maintained a tiny fortress of solitude that houses his collection and shields him from the shitstorms that happen when a trash tower falls. WALL-E has a little cockroach friend (leave it to Pixar to try and make something less likable than a rat endearing) that provides his sole interaction with life. And while WALL-E yearns to have the kind of connections he sees in the movies (he has a tape of Hello Dolly) he plods through his mission statement, getting so lonely he almost dies.
But then he meets a special someone in the form of a reconnaissance droid named EVE and is instantly smitten.
WALL-E begins to woo EVE but an unexpected item in his collection changes everything and WALL-E winds up on a Homerific Odyssey, defying any circumstance just to be with the one he loves. And the really surprising part is that I didn't choke on my own vomit writing that sentence. From what I remember Pixar has never made an actual love story before, and they're geeks, so they turned it into a sci-fi story. WALL-E is the first feature length CG chick-flick/capitalism skewering/PSA for kids. You have to hand it to Pixar. Even using tropes as old as Aristotle and a cautionary tale of our current consume and discard culture, they manage to make a movie as completely unique, endearing, and technologically groundbreaking as their last. And the reason that has turned into a license to print money is because the movies are consistently entertaining and ever more gorgeous to look at.
And gorgeous WALL-E is. The level of production design is amazing, falling in line with director Andrew Stanton's decree that this look like a real movie, going so far as to bring in legendary cinematographer Rodger Deakins to advise the animators how to light the scenes and help create new ways of imitating the effects and flaws of film camera lenses in a CG environment. Between the abandoned Mars-like Earth and the cold Lucasian beauty of space, there is a complex warmth and cold sterility that make WALL-E stand apart from anything they've done in the past. Even better the first 40 minutes of the film are not driven by any kind of human dialogue, and Ben Burtt's sound design carries the films most effective moments of atmosphere and character development (a good sound system helps).




But while those elements cement the technical prowess of the film, it's really the love story, and the design of WALL-E and EVE that gets you. While WALL-E is a cross-breed of R2-D2 and Number Five, EVE is a product of the future, a sort of iPod robot; sleek, simple, but with a complex functionality hidden inside. This sets up a sort of classic wrong-side-of-the-tracks romance that'll resonate with anyone who felt a retarded puppy love for someone that was way out of their league. But ultimately there are people and WALL-Es weak point hits when we find them and they start talking. Not that the story turns to shit, far from it, but it's telling that there's only one real human character that gets any development, and ultimately the third act magnifies the tacked-on feel to the fate of the humans and one of the story's biggest holes (I figure less then one percent of humanity made it off Earth). That's a plot hole I can get behind, at least.
There are shades of a much darker picture in this film that were wrangled over until it became the story it is. But the earnest nature of the robot love story, while WALL-E's greatest strength, masks statements about corporate culture, over reliance on technology, and the insularity of the Entertianment Age, that provide the heartiest food for thought.




BUKKAK-E


8 of 10



Seed

Written by Joe O'Shansky
Tuesday, 31 March 2009 01:42

We're masochists, Blake and I.

B-Movie Night has been a forum for our compulsion to watch movies about telepathic police dogs, robotic djinns, Jesus Christ re-born as an assassin of lesbian vampires, gorillas that know kung-fu, Amazon warriors with no discernible acting ability, and of course serial killers and cannibals, not to mention the oeuvre of Rudy Ray Moore, Fred Dekker, and any fucking movie that has Tom Atkins in it; in any capacity. The list is far to long to contemplate, much less remember (and is occasionally best forgotten). So it was inevitable that Uwe Boll would make a strong showing on the scroll of ever growing shlock since that's all he really "creates". The fact is a lot of these flicks are fun as Hell to watch, and even Uwe has made a couple of really enjoyable entries to be consumed with the requisite booze required for maximum B-Movie Night impact. From the enjoyably bad (House of the Dead, Postal) to the shit that makes you wish you were on hallucinogenics just so you'd have a better memory of the time you squandered (Bloodrayne, Bloodrayne II), Uwe has simultaneously earned the scorn and admiration we've directed at him (as opposed to most people's indifference).

But with Seed...man, fuck Uwe Boll. I hope he gets fucked in the ass with a nest of killer bees. I hope he wakes up one morning with his dick tied to a roller coaster. Boiling in oil is to good for him, or anyone who would crank out as incoherent a piece of shit as this. Not only have I never hated a Uwe Boll movie this much, I don't think I've hated any movie this much. Want to know how much? We watched it to the very end of the credits, teeth grinding at the onslaught of generic shit-metal, because I wanted to hate every single frame of this 90 minute nutpunch. I wanted to know who the key grips and gaffers were so I could mail bomb their houses. When the credits were done I pulled the disc out of the player, went outside, and jammed it under the back tire of Blake's car so that when he left (fled?) it would shatter into a hundred chromium shards that hopefully wouldn't morph back into one piece like the fucking Terminator.

Max Seed is a serial killer (the most boring, underwritten, serial killer in the history of the genre, which is a feat in itself). He gets caught after starving a bunch of victims to death. Yes. A serial killer who locks his victims up and lets them starve. I'm sure in real life that would be horrible, but in a movie it's about as exciting to watching celebrity poker. They try to fry him in the chair, but for some reason they're using the older model that doesn't have quite enough juice to do the trick, so they try three times. When that doesn't work they tell everyone in the audience that he's dead and quickly seal him up in a pine box for burial alive (another death that is now to good for Uwe). Anyway, turns out Max got some training from Pai Mei or some shit because next thing you know he's busting his ass out of the box Uma-style and going on a raging rampage of revenge against the people who put him under.

Boll's usual ineptitude with anything resembling narrative coherence or directorial skill seems multiplied by the national debt here. He unspools the first act in a combination of flashbacks and forwards, seemingly on a whim. It's like he put each scene in a shotgun and just blasts away while spinning in random directions. I'd like to think I can tell what his reasoning is and here it seems he's trying to mirror the disjointed mind of a psycho with some equally disjointed editing. But it's just confusing as fuck and only serves to piss off the audience. As if the opening sequence wasn't enough for that? Boll obtained footage from PETA involving the most heinous animal torture I've ever seen, and cuts it into the beginning (Max is watching it on TV, possibly while beating off) for no discernible reason but to shock. I like shock and exploitation. Goddamn, often times I love it. And I personally could care less what people do to each other. But when you hurt animals or kids, you pretty much go on my Death List. I suppose it's a good thing that people are aware that this stuff happens, but Boll is using it for the same bullshit exploitative reasons that they killed animals for in Cannibal Holocaust, another asshole of a movie that, in retrospect, seems like a fucking masterpiece in comparison to Seed.

Blake and I decided you would need algebra to assign a numerical rating that was representative of how much this movie blows squirrels. So yeah, Uwe? Suck a back pack full of dicks. Suck a fucking supertanker full of dicks. In fact, if you all want to keep this going, just think of any type of conveyance (car, urn, salt shaker) that you can stuff full of dicks for Uwe to suck on and post them below.

- Assfisting out of 10

Last Updated on Friday, 28 August 2009 05:43



Once

Written by Joe O'Shansky
Tuesday, 31 March 2009 01:41

It's not my preferred genre, the musical. At its most distasteful it summons to mind shit like Oklahoma, Guys and Dolls, or any other number of big Broadway production numbers, transposed to film. The stories of most big, old-school, Rogers and Hammerstein-type musical productions just bore me into a welcome death. Sweeney Todd avoided this fate. Maybe I just need to watch more musicals? But there are some that I love.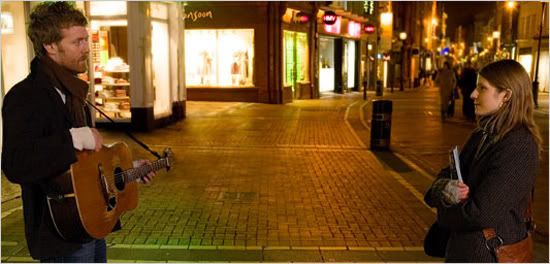 They just aren't what you would (mostly) think of as musicals. The Blues Brothers is a Blues Brothers movie. It has lots of cool music, but in only one sequence is music used for exposition (Aretha Franklin, annihilating with Think). I consider Repo Man somewhat a musical, in that some of the songs inform characters. When Emilio Estevez rolls down the street listening to Pablo Picasso Was Never Called An Asshole, that song's lyrics are a mirror into Otto's head. Granted he's not a very deep character, but Repo Man is still the quintessential punk movie and its soundtrack is integral to its characters (and very awesome).

You'll notice neither of those films is the least bit romantic. Neither has an emotionally moving story. They are comedies and great ones in my book. I tend to avoid these things though when they become earnest. I can only appreciate a musical when it's funny or creepy or, even better, cynical.

Once opens with a guy playing guitar on a Dublin sidewalk, acoustic jamming his way into whatever pittance passersby toss into his open guitar case. Credited as "Guy", Glen Hansard immediately makes his talents known. He can sing like a lark, and has the songwriting skills to boot. He's a gentle fellow, who won't even beat up a dodgy prick who robs him, though he chases his crack addict ass down and makes him apologize. Guy's musical stylings catch the attention of "Girl" (Marketa Irglova), an earthy Czech, well...girl who notices Guy plays more personal songs at night, and she uses the pretext of Guy being a Hoover Fixer Sucker repairman to come back the next day. With her vacuum.



Beyond that I don't want to give up much because the way their relationship develops and the reality to which it's played is one of the haunting things about Once.

It's a wonderful film on a lot of levels, chiefly the way it constructs its narrative while subverting the conventions of the musical genre and the classic love story. In one scene where Girl is asking Guy what other "Girl" inspired the song she heard on the street that night (they're on a bus ride the next day) Guy throws together a quick folk number called Broken Hearted Hoover Fixer Sucker Guy that is totally hilarious; and though it is exposition it comes off totally natural. If you know any lifer musicians, especially the acoustic variety, it achieves an unaffected reality. Then Guy busts out some acoustic metal where he says "fuck" a lot as he apologizes to the old woman sitting nearby, even though she is smiling from the blitzkrieg of charm. The flick had me by then, too.

It's a story of two disparate souls that says as much about the music that joins them together as it does about the ways it separates them. Shot in a quasi-documentary style, Once feels like a home made film. Guy and Girl are better musicians then actors, and that actually works to the films advantage. Director John Carney makes the most of their chemistry and the resulting performances are something you can't learn. If you look at Juno in this light it suffers. In a lot of ways they are similar films. A love story that seems unrequited (between musicians even) who have created the only thing that seems to bind them together, despite circumstances looking to pull them apart. But where Diablo Cody carefully constructed the characters in Juno to fit her story, its themes, and the roster of talented actors in that film, Once constructs its loose story and lets it run on the abilities of its non-actors natural chemistry and inherent talent, which is formidable. The result feels very real.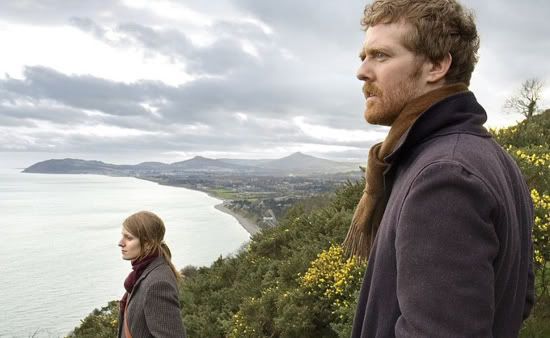 And then there is the music. The bulk of the music in Once are acoustic/piano pieces, until later in the film (though I won't tell you why). Initially it's just Guy and Girl, but the way the film paces its music not only builds the relationship between them but offers some brilliant songs. Falling Slowly won the Academy Award, but Lies grabbed me immediately. It's an incredibly earnest song but it taps into something that for all I know might be an Irish thing. I always heard they (or the Scots) knew how to put together a heartrendingly sad melody (primarily because life sucked) better than almost anyone, and Lies put a lump in my throat. The best thing about Once is that the music is pulling the strings and not the film itself. It's not schmaltzy, just very, very, wonderful at telling a story that's as whimsical about the nature of love as love is confusing, painful, and inspiring while marking the sad truth that it doesn't always conquer all.

Sometimes it's easy for me to forget that films aren't always spectacle. Good or bad, there is an inherent need for genuine emotion in films that is totally analogous to its greatest cousin in art; music.

The way Once combines the two is something special.

9.0 of 10