Vectrex- now dust free...
Written by Arcot Ramathorn
Thursday, 06 September 2012 14:30
We're preparing for a renovation in the High Voltage gameroom, and some maintenance outside too. Literally everywhere around the house and arcade some form of work is being done, and it's wearing out the dog days of summer. Even entire trees and rows of evergreens have been removed outside to give us a nice flat new look.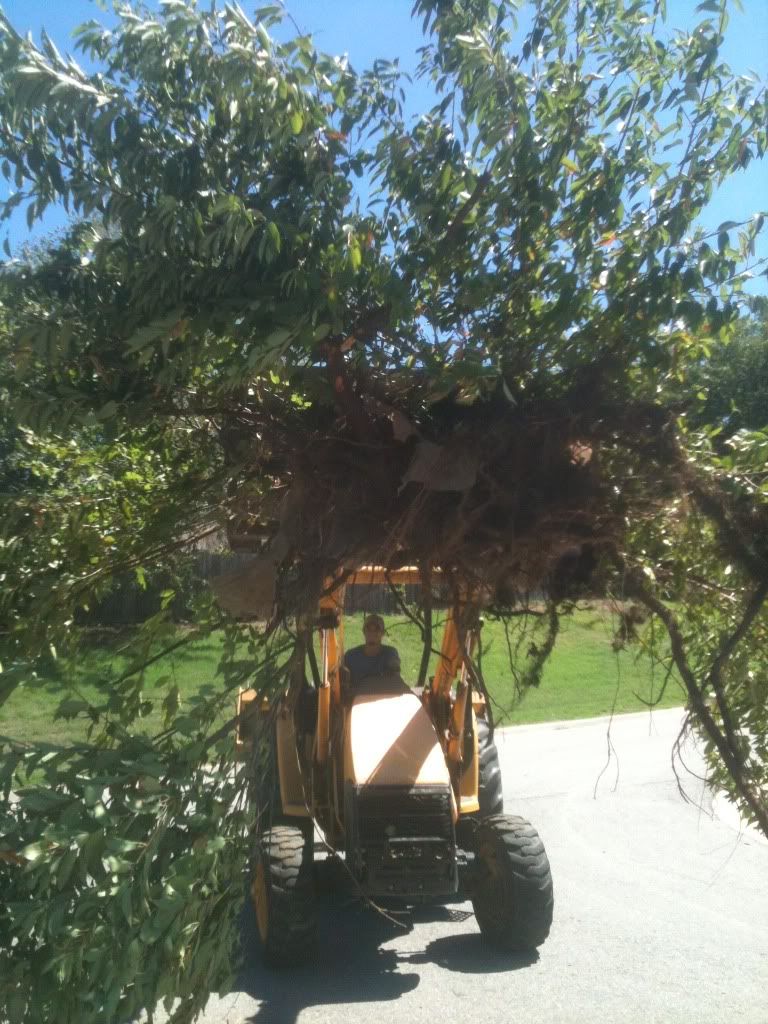 Coleman wasted no time yanking this and several other similar '"bastards" out of the Earth outside the gameroom.
Cables and adapters are everywhere, dirt is everywhere, and can after can of garbage from renovating and beer drinking is hitting the curb- the place is getting a facelift. After this weekend I hope to be able to sit back and relax a little bit, but the way things are going, I could be asking for too much.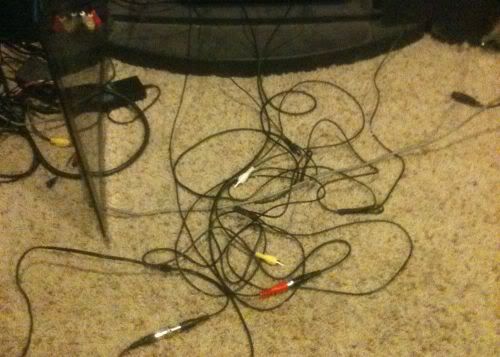 walking through the arcade with the lights off could be hazardous to your health this week.
So, as I have been shoving things around and getting organized, I've unearthed a few retro boards and systems that have been boxed or shelved for ages. But tonight was a real treat, because I found our VecFlash cart that had previously been missing for over a year! Last I remember, we added 15 more games to the memory, the afternoon of the advent of 'burger surfin'! Now to play it! Wait...It's not going to be that simple, because I'm going to have to find the Vectrex too. This won't take long, but it will take some work. I decided to remove the picture I had here of the grossly overstocked and 'jenga'-ish tower of shit I had to move out of the closet to get to the Vectrex, so you wouldn't get the impression I'm a hoarder- because I'm no hoarder...I'm just a poor stacker.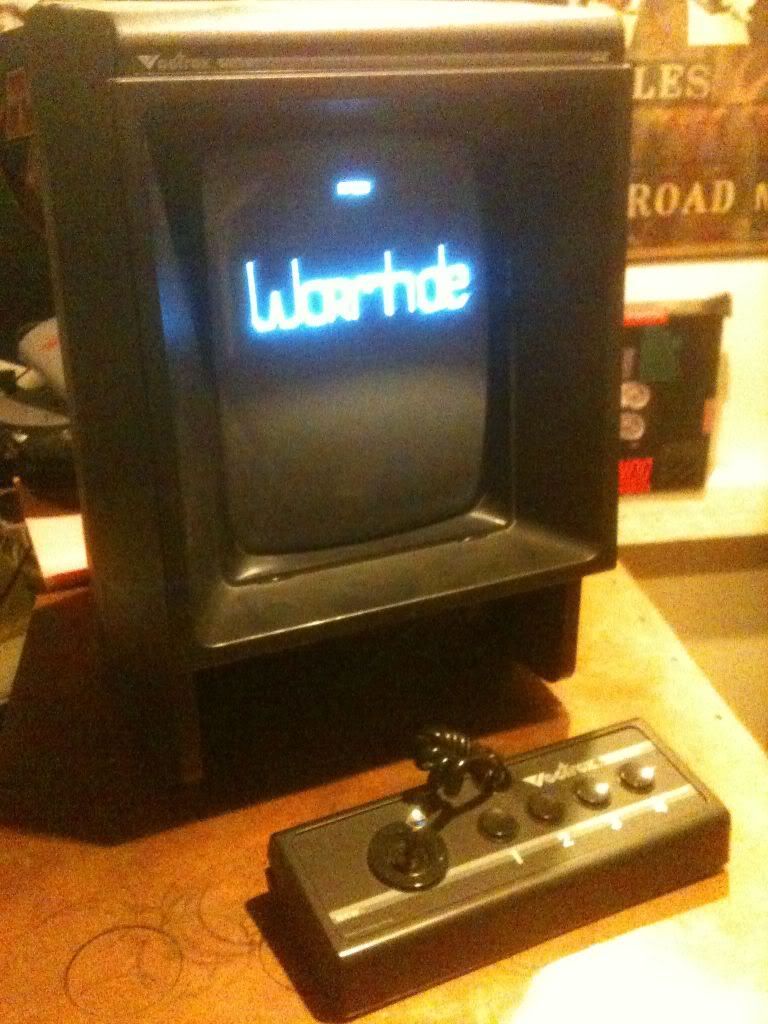 And finally, after some moving and rearranging, and about ten minutes with a duster- the Vecflash is inserted and the Vectrex is powered on...and there is that familiar buzz once again! Man, I loved Vectrex so much! There's really no comparison to playing one in the dark- it simulates vector games with a real arcade authenticity that can't be duplicated by any other console- it's just like the real deal. I'm opening a cold beer and getting set up on the bar to play some wormhole... I'll see you on the other side- or once the renovations take a break!!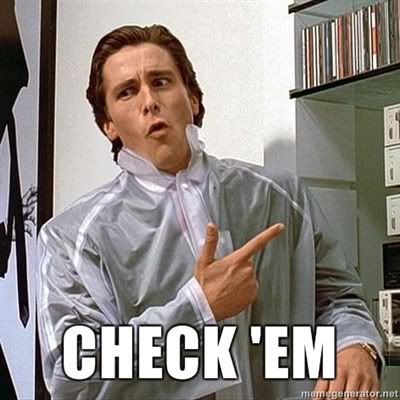 Xevious - the bastard years
Written by Arcot Ramathorn
Tuesday, 28 August 2012 18:45
About 3 months ago I made another trade deal with our good friend Coleman. But, something about this trade was a little different. This time, instead of trading arcade machines and parts with him, nothing left the shop- something left the rehearsal space. And with the new baby just a few months around the corner, this was probably a good decision. It's time to finish the projects that have been building up, and one thing is certain- I'm not taking on any new ones. So, Coleman had been expressing interest in a set of Borg drums I had that were collecting dust, mostly because the Ludwigs just get more play.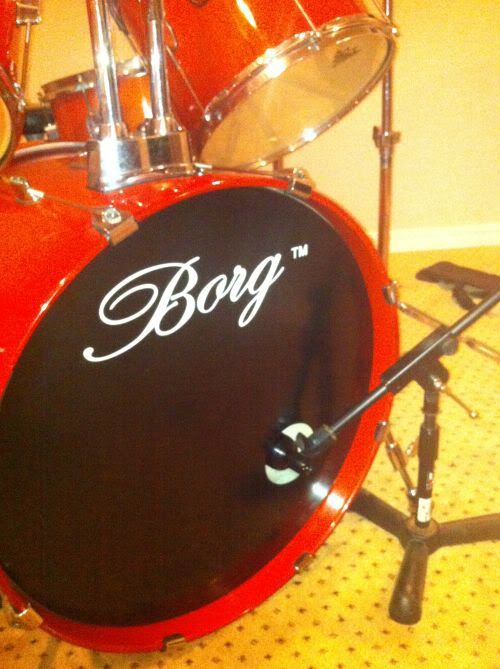 Not a bad little kit. The outrageous orange shells really helped it stand out.
I had no room for the second kit anymore, and as Dr. Ramsey had made such an outstanding deal on them to begin with, I found it easy to part with them. Coleman had just raided a warehouse and pulled out several non-working and horrifying machines, most of which would need lots of work, or just be rebuilt (or skipped) altogether. But one stood out for me, an absolutely awful 1982 Atari Xevious machine. Filth was stuck to it like shit to a blanket.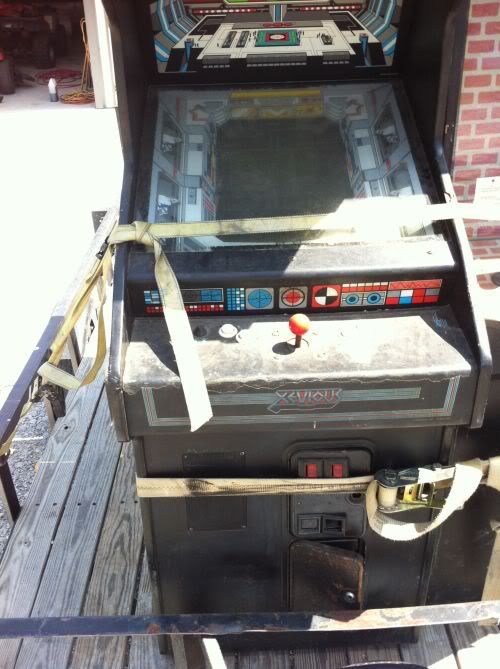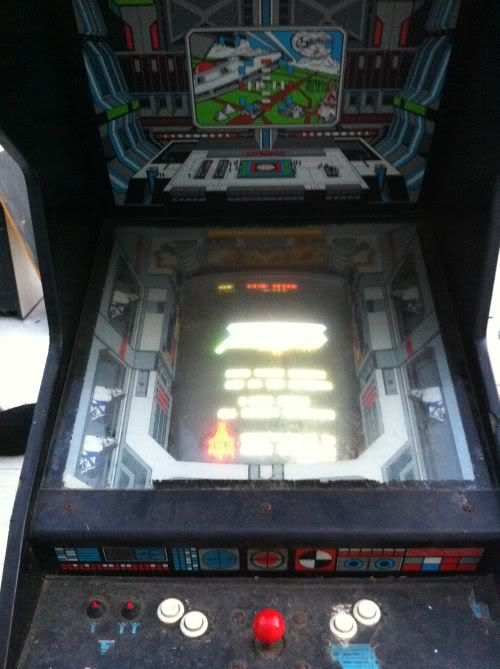 EEEeeeek!!!! Hideous. And look at that factory monitor on the right- that bleed...that's gotta go, forget doing a cap kit- no time for that, plus the blue drive is dead too. Yank it outta there.
So out came the power washer, I figured I had very little to lose. The machine was in such bad condition in fact, that if I screwed anything up any worse, I'd lose no sleep just throwing into a QuikTrip dumpster at 4 AM. Besides, I'm usually up around this time on the weekends anyway, especially if the Maupins come to visit.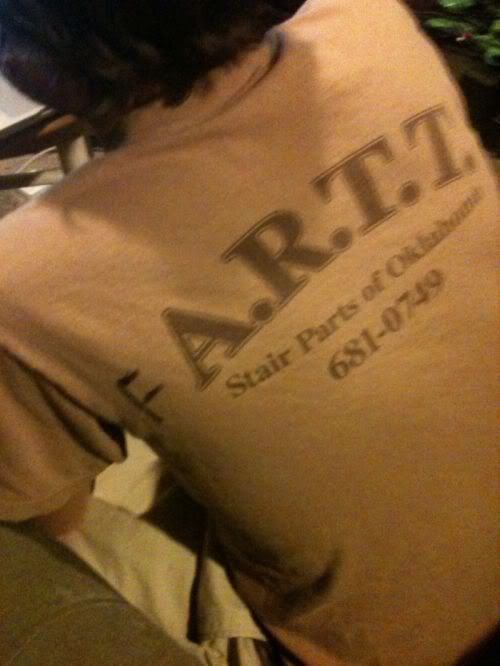 Here, notice the letter "F" I added to the back of Cody's shirt, to fix the obvious misspelling.
Coleman pointed to an area of damage, a section on the front of the machine to the left of the control panel where someone had bashed into it, ripping the left side off at the T-molding groove, and almost ripping off the artwork on the front left portion. Why does this always seem to be an issue on graveyard machines we've been restoring these days? I swear we've had to fix more wood damage lately than any other kind of injury. But, with this came experience in solving the problem, and it became less complicated, this being the 5th time this year. See below, left to right, before and after.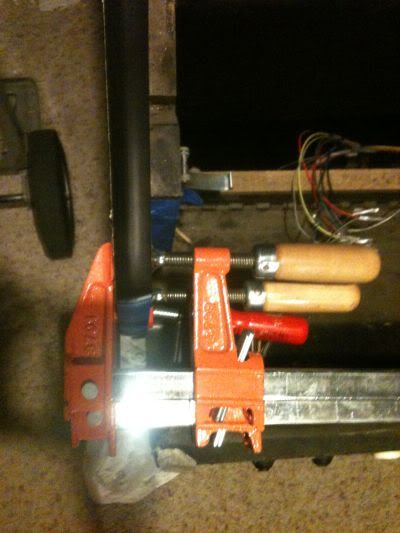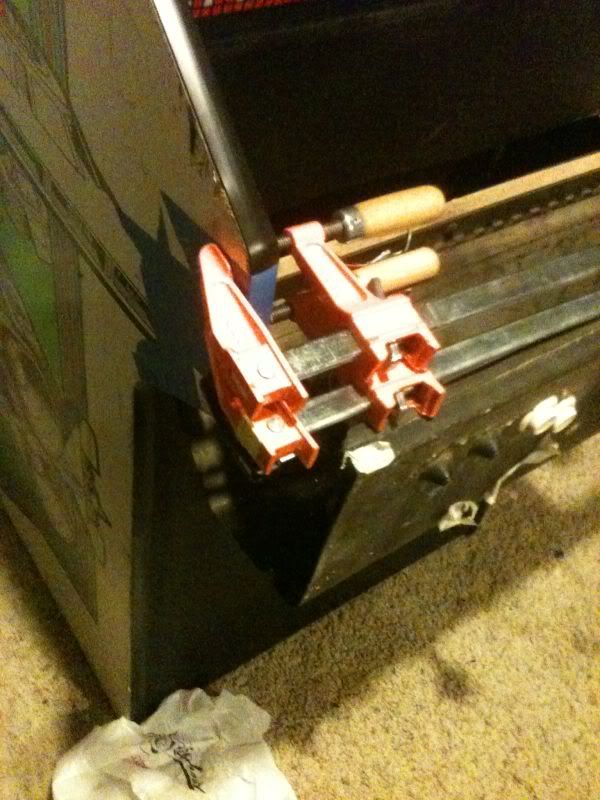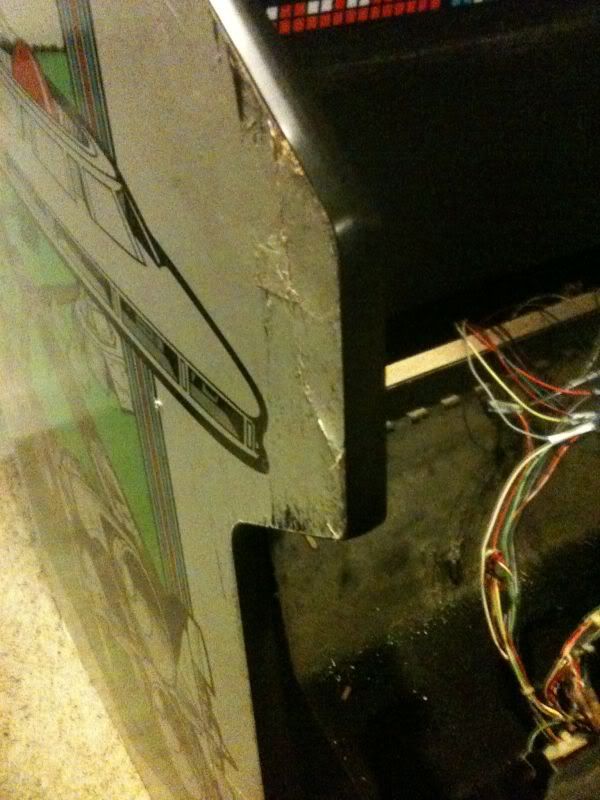 After sanding out the jagged areas of the t-mold groove, a liberal amount of wood glue was mixed with Elmer's filler, and applied to the center of the groove, creating a tacky surface to both reattach the broken portion of the wood side with artwork on it, and create a new groove for the t-molding to adhere. After stretching the molding across the surface, the clamps were added and extra wide painter's tape was applied to keep the molding in place for 24 hours while the solution solidified. The clamps were placed over the stretched tape, so the firmness would not relax. The next afternoon the clamps and tape were removed, and the artwork near the break was sanded and touched up (not pictured). It looks fantastic. But look at that disgusting control panel and overlay. It looks like an albatross has been nesting on this damn thing for the last two years, and it'll need a brand new control panel overlay, and some new buttons. This is where Killerbrew comes in. And the CPO he found wasn't bad for the price, just a little short- but you'd never know that now after I've touched it up. I donned a disposable FEMA mask (thanks to Mayor Pat Kelly) and went to work removing the 32-year-old overlay from the metal- which is completely difficult.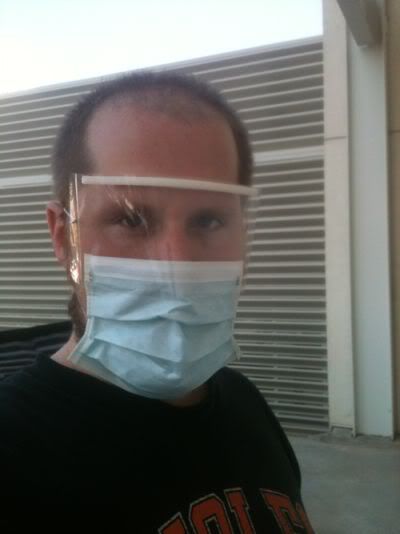 One thing's for sure- if you wear a respirator or mask when stripping metal, your lungs will thank you...
After a good two hour or so session on the loading dock at the college, the panel had been stripped of the old overlay and sanded down to bare steel. After soaking the panel in the largest basin I could find, we dried it and very carefully John and I applied the new overlay, with brilliant results...in fact, as good as it would look on a brand new cabinet from the factory.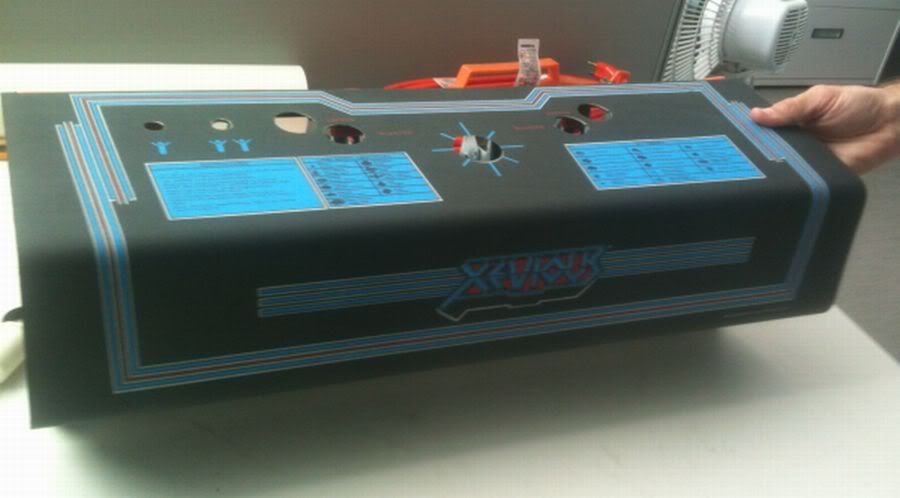 Finally, a new look for the old girl, one that should last for several years to come. In addition to the CPO and t-molding/woodwork, we also removed the original 'over/under' coin door that was in the machine, and replaced it with a new one. What a huge difference that made. We also removed all of the old wiring and harness, and the original arcade monitor and Xevious board, and installed a new monitor, and an Icade 60-in-1 JAMMA board too, which includes Xevious- so just about everyone can enjoy the machine now- not just Xevious fans. The machine is almost 100% done now, and we only need to replace the marquee sign for it to be fully restored. It's not in terrible condition, but a brand new one would be a wonderful finishing touch. Stop by and play a few rounds if you like, and til' next time, cheers- and happy gaming!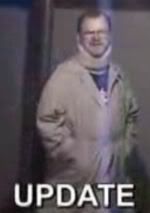 Got it installed on the machine last night, and repaired the control panel light ballast- there is starting to be hope for this machine...
Last Updated on Wednesday, 29 August 2012 13:54
Millipede finally comes home!
Written by Arcot Ramathorn
Monday, 13 June 2011 16:22
Well, the wait is finally over, and Arin is going to be bringing my Millipede home to Tulsa from Moore this Friday- and I can't wait! We've been talking about doing this forever, and with limited arcade machine transport vehicles these days, it has been impossible. But- Arin and his Dad have constructed a small trailer he can pull with his Honda- and apparently my Millipede will fit! Hard to believe, given the size of that cabinet- it is one of the heaviest ever made in the classic Atari days.
The cabinet itself is in pretty good shape, however there will be some artwork that needs to be replaced.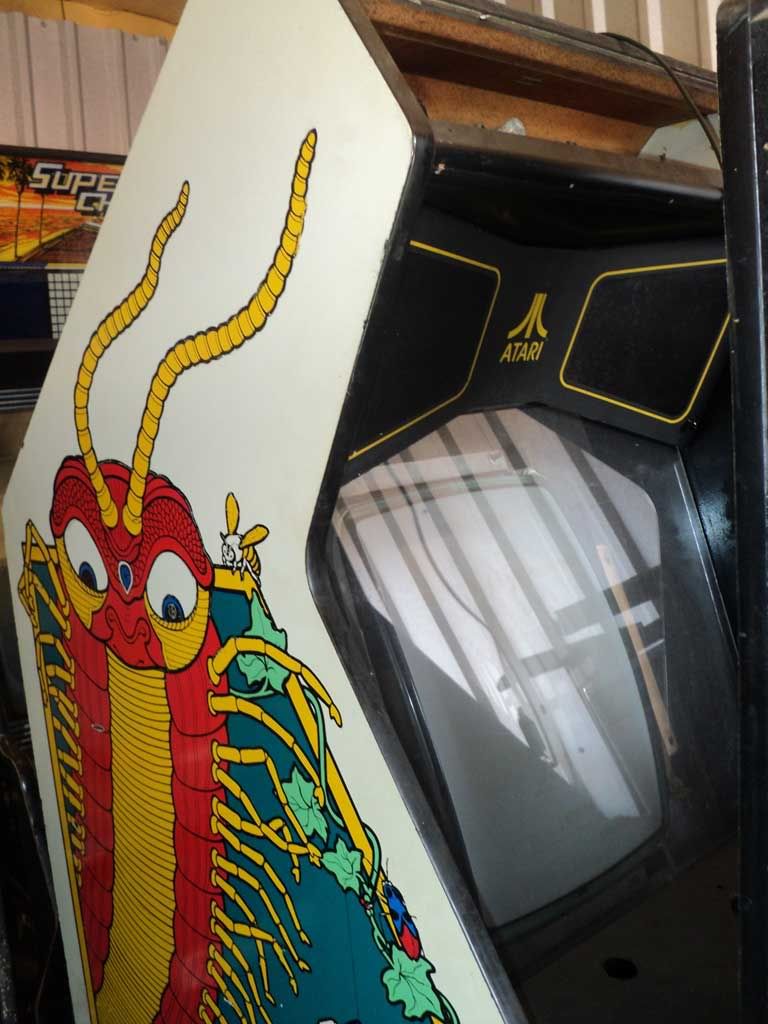 I ordered a new control panel overlay from GameonGraphix.com, and it arrived last week. It looks fabulous!
I also grabbed a Millipede marquee from some new old stock my boy Todd Tuckey at TNT Amusements had laying around on the cheap. It will be OK for now, but I will eventually get a new marquee overlay for it. This is one of the favorites of my collection, and now that it's coming home, I'm not sure what to do with Centipede! Should they go side by side? Should I sell Centipede to recoup some of the Millipede restoration costs? Should the US return to a Gold Standard? Who knows? One thing for sure is, we'll have this baby up and running with new artwork and parts by Saturday evening, with a few folks in line to play. After some hard work and adding new trackball, artwork and a new monitor,Millipede is finally in the gameroom! Here is a picture of it right before I played my very first game, and moved this gem inside. It is gorgeous. Thanks to Arin for the cone buttons and Killerbrew & Coleman for helping with the art.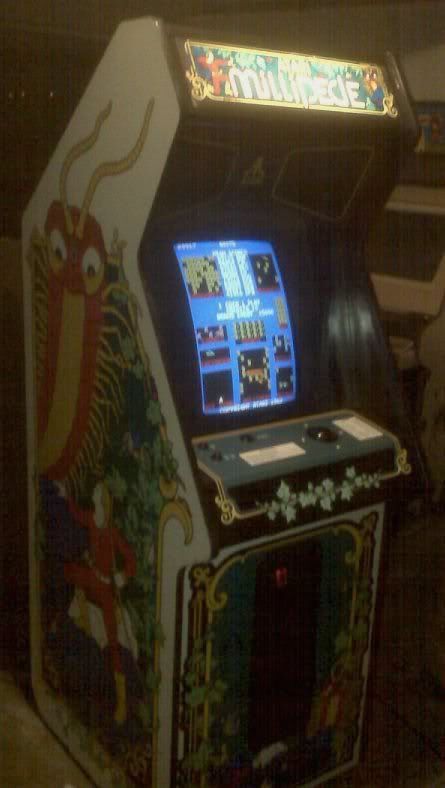 Til next time, cheers, and dark beers!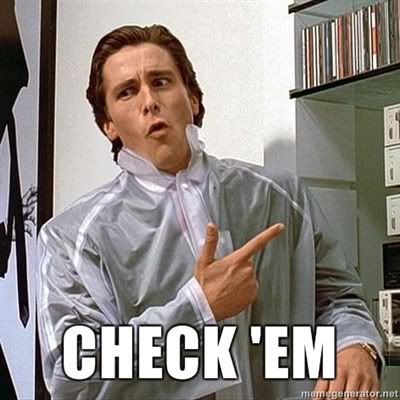 Last Updated on Thursday, 06 September 2012 14:03
Written by Arcot Ramathorn
Tuesday, 19 April 2011 19:17
Here are two of our favorite AVGN reviews from his first season.
Remember kids, if you are watching this at school, and parents, if you're watching this at work, James has a filthy dirty rotten stinking mouth!
You've got to follow your balloon...
Written by Arcot Ramathorn
Monday, 07 March 2011 16:05
Which is exactly what little Pac-Man Junior is doing on the control panel artwork of Midway's 1983 classic, Jr. Pac-Man! When this cabinet first entered the shop, it looked like a wet schnauzer with birth defects. I mean- the marquee topper had been torn completely off the top of the machine by a mystical giant, the monitor was broken, and the bottom of the cabinet was more swollen than our national debt... and it will still take a bit to fix some of that. Two great things in my world though: Two really great guys have the equipment to help to restore these 'electronic tumor sarcophagus'... Killerbrew is running a beautiful CNC router, and Paco))) has a state-of-the-art printing setup, up at Action Signs & Design in Norman. Either way, there will be the need for some new artwork and woodcutting, and I know I can count on these two great guys to help. So-
The first thing that needed to be done was to sort out the monitor issue. At first glance, the monitor appeared to be hooked up correctly, RGBG and sync, but on these old Midway machines, there can be sync issues, and after Killerbrew stated he had turned every pot on the monitor a hundred times and got no results, I had a feeling there was sync out somewhere, and there was. Take a look at this photo, and you can understand what was going on with little Jr. Pac.
See the red circle at the top-left? The set of 3 pins on the top, are sync. The 5 pins below those three are, in this order: Red, Green, Blue, Ground, and -sync. The trouble with our particular machine was, when the monitor was removed to be capped, (when 13 or more of the capacitors on the monitor's motherboard are replaced) a newer G-07 monitor was installed. So, the existing setup in the 3-wire molex connector was H Sync, G, V Sync (meaning Horizontal sync, Ground, and Vertical sync). The new monitor wanted a different signal, actually being G, HS,VS. So, taking a small flathead screwdriver, you have to actually remove the pins from the molex connector and arrange them in the correct manner- and there is only one way to find out which way is correct- and that is process of elimination on the connector. Plus after ReRuss set the convergence, and Killerbrew torqued the actual monitor neckboard to sort out the position, we have an excellent looking machine now! So now that you are good and bored with the details... here are a few pics!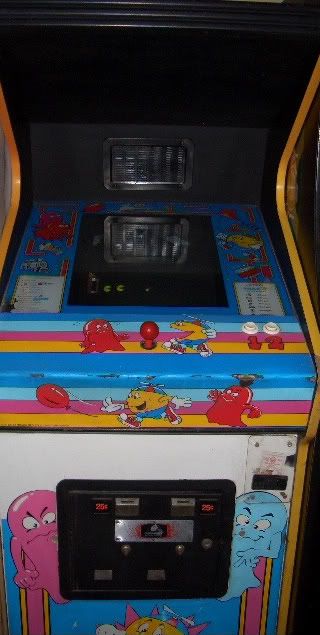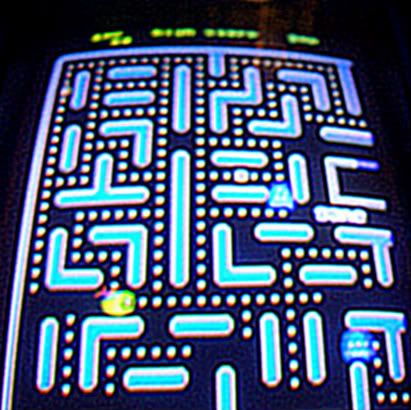 Pretty excited to have this rare classic up and running! Jr. Pacs are pretty tough to find! Have you ever played a dedicated one in person? I hadn't...
So, we'll keep turning the screwdrivers- we've been really busy all week and with Spring coming, there will only be more machines coming out and being repaired. It's going to keep us busy, and Spring break is right around the corner. Maybe Gia will let me get a few things done that week, we'll see. Until next time, cheers, and remember to follow your red balloon!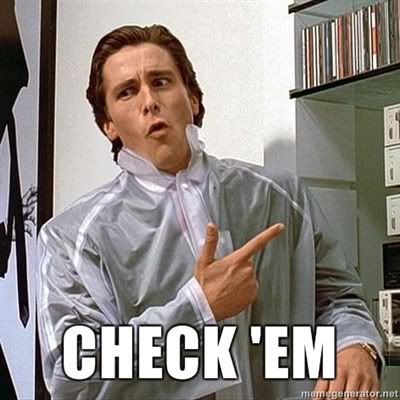 Last Updated on Tuesday, 28 August 2012 19:05
high voltage's nes collection
Written by Arcot Ramathorn
Friday, 25 February 2011 18:30
It was the summer of 1985. I had been wearing out the wheels on my Powell-Peralta and getting into trouble at the QuikTrip on 11th st- the only place I could ride to play some arcade machines. But in anticipation of the NES coming out, I had tried to keep things on the straight and narrow. Atari had kinda run it's course with me, and I had had played endless hours of Space Invaders and Adventure- and shit was getting old. I foolishly thought my coming birthday might bring a Nintendo.....and it didn't. It came to my Uncles house instead- which made no fucking sense at all to my sister and I. Was this some sort of cruel joke? Were we in trouble? That's right- that Christmas our Dad bought our Uncle Steve a Nintendo- and bought us some clothes or something....what the fuck??? Seriously- I never really understood that. I went to my Uncle's house just yesterday to help him move some stuff around, and there his Nintendo sat- on the shelf, in the original box, still unopened. He didn't give a fuck about that. And that's the real comedy (or tragedy, you decide). So this leads us to the summer of 2002. I was cleaning up some boxes of stuff and moving to a new place, and found about 13 NES cartridges and a few controllers, but no NES....and I decided to hunt down a system to play a few of these games on. After all, hours of Marble Madness and Metroid were fond memories, and I wanted to waste a little time remembering the good ol' days. But beware- this collection has become a behemoth...and now it has me considering building new shelving and rearranging my gameroom...all because I have recently discovered what I didnt as a kid...8-bit magic and what it can do....and I have created a monster.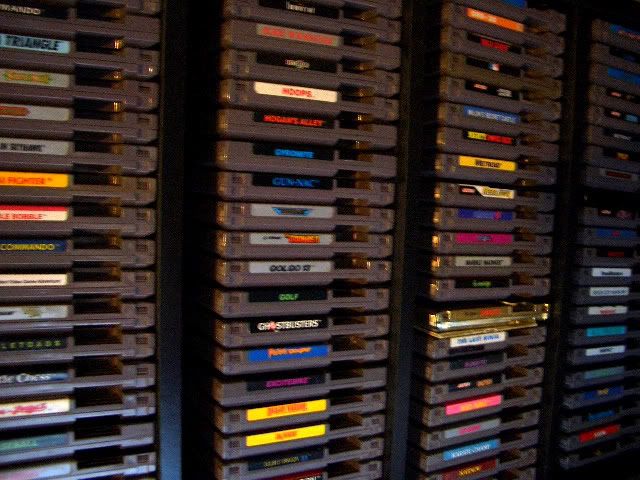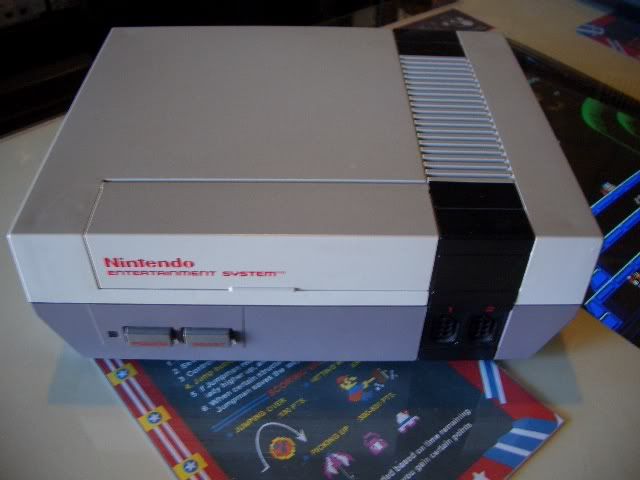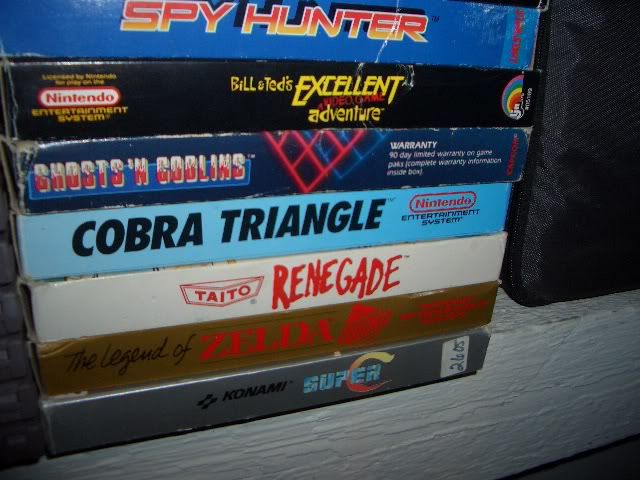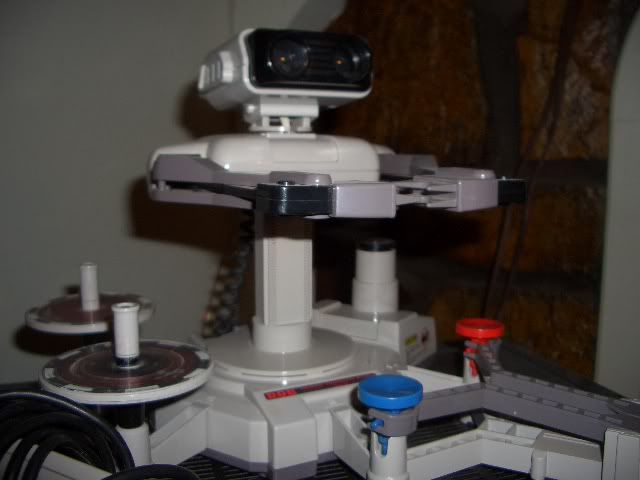 Over the last several years, we've been adding to the collection, and now we have over 250 carts, several peripherals, and it's getting harder and harder to find carts we don't have. Or, we'll find carts we don't have, but just don't fucking want, like the 60 or so different baseball games, unlicensed bible games, or retarded shit like Barbie, or the Little Mermaid...meh. The collecting sort of becomes an addiction, much like smoking or anything else...the attempt to find the rares and the favorites from yesterday, and everyone else in the market is competing with you, so cart prices are driven up. Sometimes wayyyy up. In fact, in a local game store the other day, I saw several NES games that were more expensive, even twice as expensive as some Xbox games! Mega Man 6, only $59.99. $59.99??! Jesus, the copy of Gears of War right next to it was 14 bucks. Pretty strange time we live in. And you know what it is? It's guys like me that missed out on these games when they were 13, and have a genuine love for the 8-bit era.... and the music- don't even get me started. There's something about that 8-bit midi sound that trances me. It does! I don't know why! Some of the games coming out today will never stand up to previously undiscovered treasures of that era. Maybe it's just me, or my age, but I would rather pull an onion out of the ground and throw it at a Beezo than play 30 seconds of Bulletstorm, or Red Dead whatever the fuck. I dunno. Personal preference? Or maybe I'm just cooler than these fucking snot-nosed kids of today? (you're right, it's my age.) Anyway, have fun with it, after all video games are meant for fun. Don't take me too seriously- I'm on some kind of high still unexplained.
Until next time, call your local Gamestop and ask for Battletoads. For the Wii.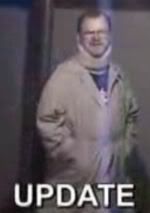 The Angry Video Game Nerd has just released his 100th episode! And you'll never guess who guest-stars! Watch it now right here!
Last Updated on Monday, 07 March 2011 16:14