Noob Saibot: "Farting around in Goro's lair"

Written by Arcot Ramathorn


Tuesday, 21 December 2010 15:34

OK, this has been a challenge for me for about 10 years. Win 50 consecutive matches in a row on Mortal Kombat II, unlock the shadow ninja, 'Noob Saibot', and attempt to kick his ass. The AI on the new 3.1 chip (which is installed in our machine) is so insanely difficult, that you can barely get close enough to him to land a strike before he has ground you into bread. Last Friday, after I had a few beers with Joey, Amy, Nick & Ben, I decided to give this another attempt.

It takes a long time to reach him, because getting the 50 wins can take anywhere from half an hour to an hour or so, and then, you return to Goro's lair from the first Mortal Kombat, and you get the chance to fight the shadow ninja. And he is completely unpredictable. He steals moves from Scorpion, though can run and teleport behind you, etc. I had Kitana selected when the battle began, and I think I may have fared much better with Sub-Zero or Reptile. Anyway, I gave it a good run, but he still mangled me.
Check out the video, and until next time, cheers!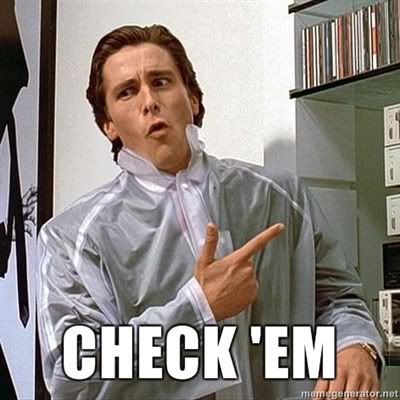 Last Updated on Tuesday, 28 August 2012 19:06
Party of the year: Through the lens
Written by Arcot Ramathorn
Tuesday, 21 December 2010 14:50
After a brief hiatus, I am back to updating my column. It has been a rough month, the gang (mostly) have been sick, babies have been sick, bills have been large and tickets have been issued. But, at the end of the month, in retrospect I think everyone has enjoyed the last few weeks, and with Jill & Scott's birthday party right around the corner, much steam was about to be blown off. We all assembled a group of people, (and although I wasn't able to make it to the bar) and had it large on December 18th, where a VIP party was planned at the TreeHouse, in downtown Tulsa. The admission was 15$ cash each person, and unlimited top-shelf liquors and beers flowed throughout the crowd all night. People seemed to be coming out of the ducts and woodwork.
After the bar, everyone returned to our place, and fired up the High Voltage arcade. I tried to get a total head count of everyone in attendance, but due to the crazy activity happening everywhere the constant distractions kept my ADD highly active! There is a huge collection of photos documenting the nights events in the forums here: http://www.justinedlich.com/regalia/index.php/forums?task=viewtopic&id=1328
Log in and check them out! Till next time, cheers!
Last Updated on Wednesday, 22 December 2010 18:16
Pin*Bot Circuits: Activated!
Written by Arcot Ramathorn
Wednesday, 22 September 2010 14:16
A perspective on having a home arcade: Sometimes you reach what we call 'critical mass', and you've got to become a moving company for a while. There are 13 or so machines in the arcade all the time, constantly rotating. If one breaks down, it goes out and one comes in. If a new machine comes in, one might have to get shrink-wrapped and go out to the shop. Things never quite stay the same for more than a few weeks anyway. But on Monday, Killerbrew sent me an email saying he was delivering a Pin*Bot that evening- so I knew I needed to assemble some of the "High Voltage Heroes", and get some things moved. So after getting Spoon, the PowerGlove and Wink together, I had a good team to get things moved. Of course, a plan of action needed to be formed first. Over a few brews. And Spoon appeared to have just eaten a bottle of 'Wait-Mate'.

It was decided that Defender would be removed from the current lineup, and get wrapped and ready for it's trip to Kansas. Mike Horton of Dialin' Watts was looking for one for his house, and we're going to send ours up there for a while. It needs to kick it in ICT for a while. So anyway, we started to clear things out to make room for the Bot, and a few hours went by while I tried to decide on a new layout. I wasn't convinced that XYBOTS was in the right place- but due to the fact it has a flat front screen area, I decided to move it over into the corner near the console shelves to free up space, and move Galaga down onto the entryway. And Once Killerbrew arrived with Pin*Bot- doors had to be removed. This is one serious machine. Killerbrew replaces the door, and then he and the Wink carried this monster in. Just the initial sight of it made me thrilled- one of my faves!!!
Then we started to set it up. This game weighs in at a hefty 300 lbs, so we had to get the legs on quick, before holding it tore people's arms off.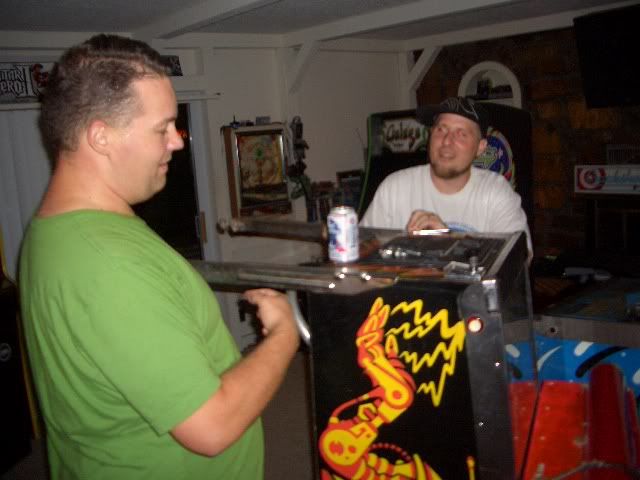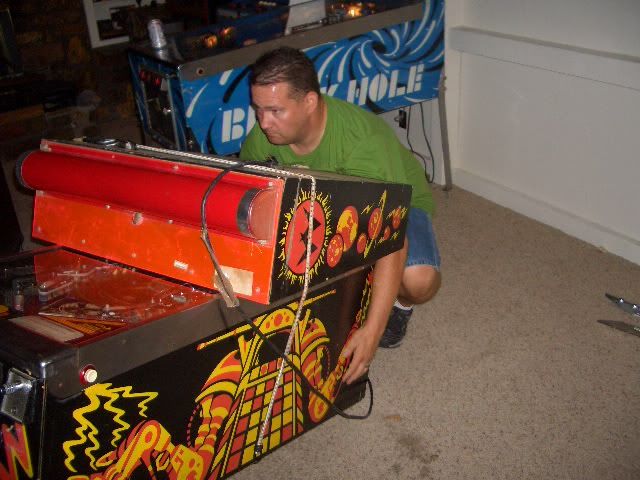 Finally- like Frankenstein slowly rising from the slab- the backbox was raised and bolted into place- just about ready to plug her in and have a look!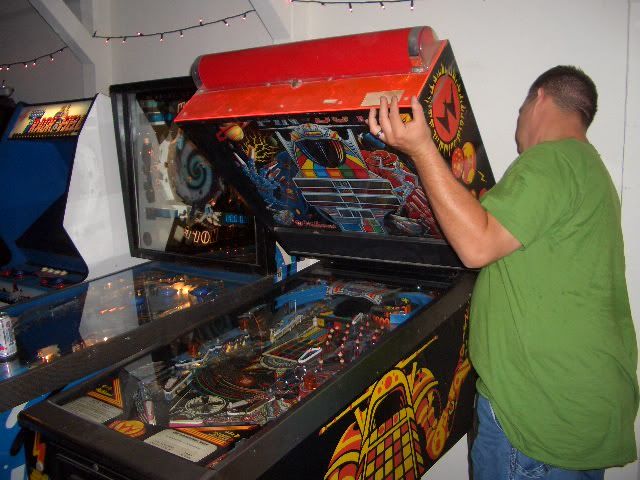 KB wasn't going to wait any longer. This was the maiden voyage on Pin*Bot at High Voltage, and by now there were about 10 people standing around waiting for this machine to switch on. When the lights came on and the solenoids clicked, there was a cheer- it was so awesome to see this timeless classic alive and well! And ready to play- after a slight adjustment to the ball kicker behind the front door. A small amount of MPL was applied. Have a look at the clip below to see how well Pin*Bot and Black Hole play together! We will make another video soon that is better!

In the last 24 hours, there have been 122 plays on the machine. With the weekend coming up I can only expect that number to increase. Until next time, cheers!!!
Last Updated on Friday, 25 February 2011 18:34
Another sad day for Tulsans....
Written by Arcot Ramathorn
Friday, 03 September 2010 19:40
I still can't believe what I saw. Another place I loved as a child- and as a young adult. Much like Bell's Amusement Park, the UA Annex Mall, and so many more.
What you see is real. The Admiral Twin Drive-In burned down today. I don't even really know how to articulate my words here... I am still in total disbelief that this piece of Tulsa history is reduced to ashes and molten steel.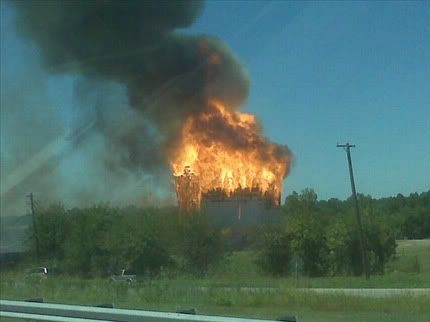 Firefighters have extinguished a fire at Tulsa's Admiral Twin Drive-In, but not before flames destroyed the theatre screen. Crews on scene tell 2News that the fire started Friday afternoon near N. 73rd and E. Easton Avenue. Flames tore through the screen and left hardly anything but a wooden frame behind.
No word on the cause. A sad goodbye to another old friend in our community.
cited: KJRH
FUCK! What else can you say??!!
Last Updated on Friday, 03 September 2010 19:45
XYBOTS? In Tulsa?
Written by Arcot Ramathorn
Tuesday, 10 August 2010 14:35
Some of you might know of the rarity of Xybots machines- at least Xybots machines that haven't been converted to some sort of horrible monolith. I have been searching for one for a long time, in fact I've had it on the KLOV wish list for some time now. I've seen a few in the last 5 years, but they would always be on the coasts. I don't travel that far to pick up machines, so I always had to pass due to the fact that shipping one of these monsters would be hugely expensive. So, one day recently I was browsing Craigslist, and I couldn't believe what I saw.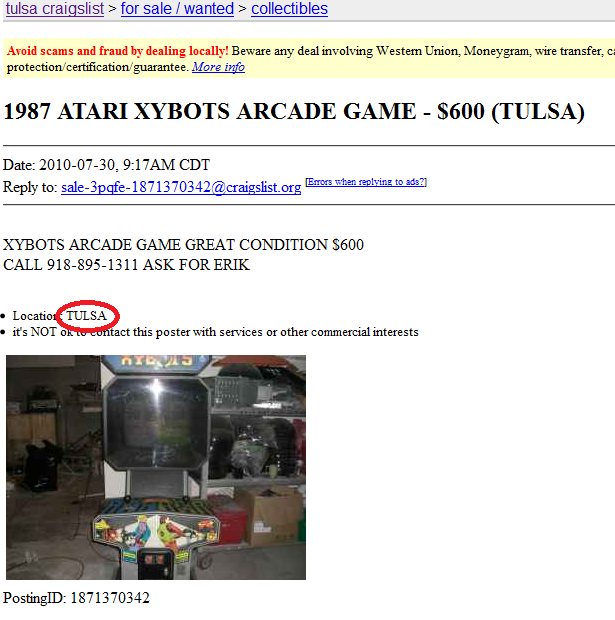 You're shitting me! Right here in Tulsa, eh? Well, in the very tail-end of Tulsa, just before the county line, behind Chandler Park, down a dirt road and thru some bushes into a clearing- where a garage allegedly containing a Xybots was standing. And there was. And after a brief negotiation, Killerbrew & I loaded it up. It was pretty filthy- in fact I think I destroyed a few towels in the process of cleaning it, it was sooooo bad. You could barely see the screen because of the black layer of thick dirt (or soot?) that was completely covering the screen and plexiglass. The marquee light ballast was bad, so I replaced it. I grabbed some 'Fantastik' and went to work on the control panel and Killerbrew hit the sideart- it was starting to look really good! Like if the guys who previously owned this wiped this thing down a time or two, they may even still own it- I was actually shocked at how much it cleaned up and how nice & shiny it looked after about 2 hours. We plugged it in- and instantly- whammo! "The human has been neutralized!!" blasted from the front speakers, and the monitor and marquee crackled to life! We have XYBOTS! It was running great, but I was so goddamn tired after the whole days events, Jason's battery kept dying in the van, and fucking with that all afternoon in the sun really wore us out. In fact, Jason had to take a nap before he had the energy to drive back home- we were all whipped. So, I barely played 1 game- I'm saving it for the weekend. So here is a photo of Richard & I with one of Jason's micro-brews, kicking back after the whole 107 degree day. Can't you just see the exhaustion?
Til' next time, cheers- and dark beers!
Last Updated on Wednesday, 11 August 2010 17:53
1 parking space, please....
Written by Arcot Ramathorn
Tuesday, 10 August 2010 14:08
OK, so I was asked to make a little room for Amy to park her new car. Not a problem- but I kinda had to think about this for a bit, because the garage is still harboring about 14 machines, and a few that I am working on for friends and other collectors, so there really isn't a lot of options. And when you live in a snooty neighborhood like this, you can't really pull stuff out and burn it, or leave it on your back patio for the desperate housewives to scoff at. So, only a few options were left, and frankly I am tired of all of this shit piling up- I give away about $5,000 worth of shit every year- transformers, power supplies, monitors, boards, joysticks, you name it. I have given friends or other collectors several chances to get some of this stuff out of the shop, but everyone just kinda drags their feet forever- so I don't want any mail like "Way to destroy a classic, asshole" or "How could you do that to Space Invaders?" because once again, year after year there has been AMPLE time for anyone who wanted any of this to come get it. And there it sat. Waiting around for me to deliver it is a waste of time anymore- I'm done. So Joey & I found a few I could live without. And again- here's everyone's favorite Husqvarna.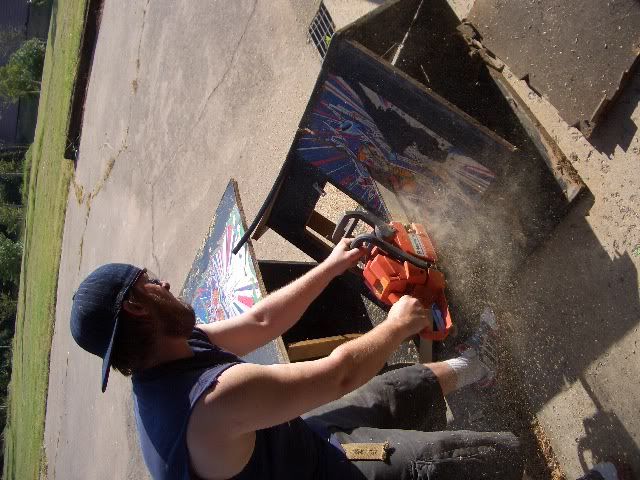 I decided to go ahead and gut a Missile Command cabinet that had been converted to Hyper Sports, since I didn't have the time to hunt down a missile command board...and after I had pulled the monitor, harness and switcher from the machine Joey took care of the demolition- in true Roman form- with a claw hammer.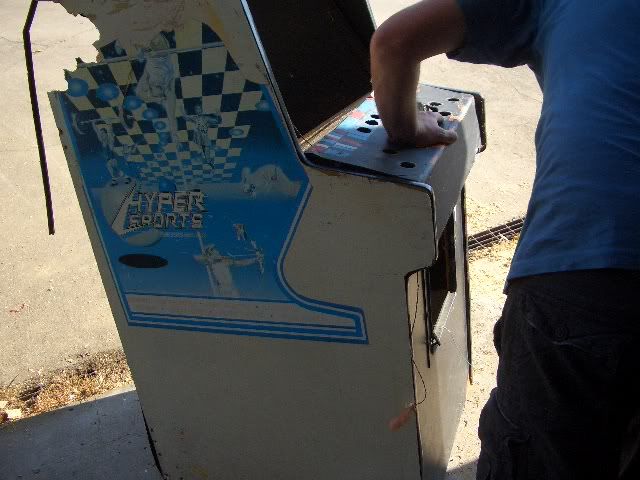 You should have seen the sawdust, glass, metal and plastic FLYING! It was ridiculous. We've demolished cabs before, but today, it seemed like we had a little something to get out of our system. Right when Joe arrived he was saying "I'm in a weird mood today..." so I think the demons were exorcised. After all the smoke & dust cleared, the broom & shop-vac had to take care of the rest. And at the end of the day, there is enough room in the garage for 2 cars now- hopefully Amy will have enough room to maneuver in there. More in the forums- and until next time, cheers!

Last Updated on Tuesday, 21 December 2010 15:44