Mega Man 9
Written by Commander MacAdoonu
Monday, 16 February 2009 15:29
Around the beginning of this millennium, video games were taking a turn for the ...3-D. In my opinion, this was a good thing, and a bad thing at the same time. The question I kept asking was "Why can't we still have some 2-D games?" There were a few being made, but for the most part, Americans were seemingly only interested in 3-D. In '97, Capcom declared that Mega Man X4 would be the last game in the series to be 2-D. In '98 they released "Mega Man Legends." It sucked. Well, okay, it was an alright game I guess, but it was in no way a Mega Man game. This same phenomenon was going on all over the place, with classic series such as "Contra" and "Castlevania." I think most fans agreed with me though, because in 2000, Capcom reneged and released "Mega Man X5" in 2-D. But for 11 years, the possibility of "Mega Man 9" seemed unlikely, and maybe a bit unnecessary. In the previous couple of incarnations, Mega Man was becoming a bit cluttered with special items and hidden crap, almost to a point where it had become too complex.
The thought had crossed my mind, "Less is sometimes more with video games, and 'less' seems to be a thing of the past. It would be cool if a game company made new games for old consoles." But I honestly never thought that would happen. Well, it has happened (sort of.)




In the fall of '08, Capcom released "Mega Man 9" for Xbox Live Arcade, WiiWare, and Playstation Network. But the cool thing is, the game is designed to look, sound, and play exactly like the old NES Mega Man titles.

They even included an option to make the sprites flicker when more than 3 of them are on the screen at once. It feels like you're playing an 8 bit Nintendo game . . . a NEW one. It's kind of a trip, ma-a-a-an. But besides the ability to save your game (instead of using passwords,) there is a major difference between "Mega Man 9" and it's NES predecessors: DIFFICULTY!
I suppose Capcom wanted people to feel like they got their $10 worth with this game, because it's hard as hell! It's frustratingly difficult . . . and I love it. Even after brushing up on all the old ones (and I consider myself to be pretty good at Mega Man,) this new sequel has me cursing up a storm. But when you finally beat a boss, it's so rewarding. And much like the previous titles, once you start collecting weapons from bosses, you eventually figure out which weapons to use on which bosses. And in most cases, you'd better have the right weapon or you can just about forget it. For the sake of simplicity, Mega Man can no longer slide or charge up his regular weapon. This adds to the challenge.

Besides the bosses being extremely tough, the levels are quite a bit longer, and contain a LOT of spikes, pits, and other instant killers. And when you get to doctor Wily's castle, portions of the levels almost become puzzle games. "Mega Man 9" goes places that none of the previous titles dared to go, (because they didn't want to piss people off,) all while staying within the limits of an 8 bit NES game. They made this game difficult intelligently, not cheaply.

The most difficult Mega Man game for me used to be "Mega Man 4," but this new one far surpasses it I have yet to beat "Mega Man 9," but I've only put a few hours into it. I only have so much time to spend on video games these days. But this one was indeed worth the $10 I spent on it. And by the way, this is the first new game I've purchased in probably 7 or 8 years. If you're a fan of this genre, I highly recommend it. Just be prepared to spew some profanity at spikes and gravity, (and possibly to throw your Wii controller across the room, even though you've been warned by several disclaimers not to do so.)
Last Updated on Monday, 16 February 2009 21:11
Flashback: One of the greatest!
Written by Arcot Ramathorn
Wednesday, 11 February 2009 16:36
Since the first stabs of the 'economic recession' are starting to hit home, fewer trips out for champagne, caviar and ballroom dancing are on my PDA. Therefore, you have to fill a little evening time with some good-ol button-bashing; and tonight, our game was Flashback, on the Sega MegaDrive.
In this game you controlled Conrad, A likable enough guy who (surprise) lost his memory and now has to find out who he is, where he is and of course save the world. No prob. The game is very reminicent of 'Prince of Persia' ( the originals not the Sands of Time trilogy B.S.) where you have to work a series of climbing and jumping puzzles, but- because this is the future a few gun battles too. So. The controls are a bit convoluted at first, with one button mapped to be run, grasp, fire gun, hit switch, all at once. but once you get some practice in, it becomes second nature. The graphics are...ok I won't lie...not great, but pretty decent considering this game's age. Conrad himself animates fluidly while running, climbing, & rolling. It seems they took a regular person doing all those actions and painted Conrad over him and put that in the game. The animation of Conrad and his enemies are a high point in this game, aside from the awesome background images. Not bad. Music...not much there, a few bass notes here and there when you enter the screen (not Seinfeld-ish) but no, no music. Sound effects are okay, the sound of bullets hitting your forcefield are satisfying. The silence during some scenes gives the game sort of a 'creepy' feel. Replay value is not a issue with this game, beat the game once and you've done all there is. Unless you're me, who cant ever let a good game go. A difficulty setting is available but it only makes the enemies take a hit or two more. But in the final stages- it makes this game harder than hell! The story is what drives this game. After you complete the first stage and jump a few ledges you get your memory back, and it explains the memory loss and what your mission is. The story is what I like the best about this game; I wont spoil it, but i will say that to this day, it has one of the most original endings ever, (when it's all said and done you do win against the big evil in the game) however Conrad doesn't exactly ride off in to the sunset either. It does take A LOT of patience to play it but the gameplay is there if you are. Flashback will pull you in and and leave you kinda miffed, yet accomplished at the end. How many games can claim that? And I still play it 18 years later. If you want to try it, there were many, many ports of this game. Super Nintendo, Sega Genesis/MegaDrive, Amiga, PC, Sega CD, etc. You could probably find the carts just about any game-trader store (ohhh-I hate them) or if you're savvy, I'm sure there's a ROM file out there somewhere for it. Well, I'm going to the bathroom to search for grays. Here's the Flashback Wiki for more info. And if you're already a fan, check out this Flashback music page I stumbled across at Binary Bonsai. Cheers, and dark beers.
Last Updated on Wednesday, 11 February 2009 17:08


Mortal Kombat vs DC Universe

Written by ThePowerGlove
Wednesday, 11 February 2009 15:37
It was bound to happen. With the popularity of MUGEN, cross over fighters were inevitable. But Mortal Kombat vs DC, come on, the Kombat universe would stand no chance, right? Now comes the story, there is a sickness called rage. It fluctuates the powers of all that reside in the two universes. Basically everyone is equal, even the great Superman is not so super.
The game play is a little trickier to learn than past MK games. The combos rely on some exact timing, if you really want to dish out pain. The graphics are top notch, almost too realistic. The sound goes great with the game as well as the BGM. The story lines are not too bad, a little farfetched, but nothing you wouldn't see in a comic book.
I would recommend this game or the least you should try it out, especially if you are an MK junkie.
Last Updated on Wednesday, 11 February 2009 15:43


Super Dodgeball

Written by Arcot Ramathorn
Tuesday, 10 February 2009 01:36
Into every young man's life a truly fun competitive video game must fall. One that combines reflexes, timing, and a high level of skill (after many years of practice, of course.) One that pits you against many various opponents, CPU (with decent enough AI) and many different human opponents over the years; some good, and some way, way better. For me, this game is Technos' Super Dodgeball, arcade version, and of course the NES port, which is nearly identical.
This gem from 1987 was a huge hit in the arcades, yet I assume a much bigger hit on the NES console. I remember lining up at the UA Annex Mall 'Funway Freeway' to play this game (against unsuspecting 'noobs'). Time after time, winning and losing some, all I did was get better. Well, meanwhile, somewhere else in Oklahoma, two brothers and a long time friend were practicing just as much. And getting just as good. And so our story continues... after laying waste to pretty much all who opposed me, Kenny began to come over and win a few rounds. Not many, but some. This sparked new interest in playing the game against an actually good human player, and removing the constant predictable challenges of the AI, even on the highest difficulty level. News of our Super Dodgeball game spread- reaching the two aforementioned brothers- Adrian & Tyler Smith. One evening, after a few cocktails at Tyler's, he whipped out his original NES console and his Super Dodgeball cartridge. I was elated. I felt this would be a challenge- Tyler talked a mean smack trail, and after all, he owned the original cartridge. After a little convincing I sat down to play Tyler. And I beat him unmerciful like Sol Rosenberg. After hearing this news, Adrian came to Tyler's house to challenge me. He was watching me play another victim at the time, standing back and observing the gameplay. Just as the controller was placed in his hand and before he could sit down, he immediately had to leave because of family situation. He looked back into the room, glanced at the controller, then reluctantly dropped it on the sofa and had to leave. I was really ready for the challenge of the great Adrian, and was sorry he had to leave so soon. But then, this picture cropped up in my MySpace comments earlier this week: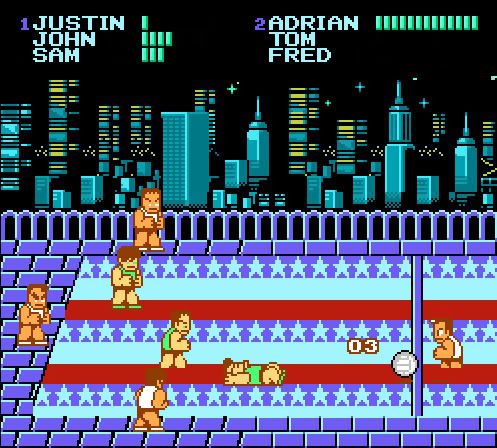 Adrian had decided to drop me a line. And it seems the competitive spirit still lies within his heart. To be the best in Tulsa? Oklahoma? The World? He'll have to get through me first. I'm not sure where Kenny stands in the Super Dodgeball rankings as far as he and Tyler are concerned. As always, feel free to discuss it in the forums. You can find more info about this game here.
Last Updated on Tuesday, 10 February 2009 03:15


Starcade

Written by Arcot Ramathorn
Monday, 09 February 2009 19:51
Props to my buddy Dean for finding this one....this show was on back when I was but a wee lad. But I remember loving every second of it and maybe you will too. This site has all of the old episodes of Starcade, along with some games to play and a downloads section. The thing I remember liking most about watching Starcade was seeing the players' high scores and then going down to Bell's or Games People Play and immediately beating them. Another fun thing about the show was wondering what they would feature next- and they did some pretty rare and random stuff throughout the tenure. I remember seeing 'Cliff Hanger' , a spinoff of Lupin III, showcased there, which was also one of the first ever Laserdisc games. Reallly cool for 1985. So twist up a cone, grab a cold one, and sit back & enjoy the complete library of the Starcade episodes!
Click the Starcade logo to browse the episodes!
Last Updated on Monday, 22 February 2010 00:14
Shit, meet pants.
Written by Arcot Ramathorn
Friday, 06 February 2009 18:47
I stumbled across this earlier and that is almost what happened. This is a Novotable, a great big 'George Jetson' style futuristic retro-gaming table. With no joysticks. Yay.


Erm, something doesn't compute. For one thing, "Novo" refers to something 'new', a word that doesnt at all belong in the name of something described as 'retro'. And, they've conceived, designed and built what appears to be very nice, modern, stylish and sleek gaming 'furniture', with a 32-inch LCD touchscreen, and you can either have a Playstation 2 or an Xbox 360 built in to the design...whaddaya mean 'Retro'? Maybe in the year 2036 people will look back on this great invention and have fond memories of its super-high resolution, wireless internet & touch capability havin' ass. I know I think of all of these specs when thinking of anything 'retro'. But let's delve further. (taken from the website) Featuring a huge 32 inch LCD touch screen, the Novotable is built around a Shuttle PC as well as a games console of your choice. And, just to add that extra bit of authenticity the Novotable also comes complete with built in speakers and a powerful, floor shuddering subwoofer.
STOP
Who is writing this shit? Ok, like I said. Nothing retro about touchscreens and wireless. But this is the gem that floors me about this. And I quote: "just to add that extra bit of authenticity the Novotable also comes complete with built in speakers and a powerful, floor shuddering subwoofer'" OK- you guys remember standing in front of that Jungle Hunt cab at Skate World with the 'floor shuddering subs'? Not me. That was a 4.5 '' little speaker mounted under the control panel. Authenticity=0. Lastly: The Novotable also functions as a multimedia centre and a touch screen jukebox – so you can listen to your favourite MP3s whilst eating your beans on toast. Who could possibly ask for more?
A: A retro gamer.
Where are you gonna set that beans n' toast, squire? On the touchscreen? I can set my pizza slice and Coke down on my Donkey Kong table. I'll bet any kids doing that on this treasure can expect a sound whipping. This should be directed at modern gamers, the 'retro' tag simply should not be applied to attract sales. Less beans and more toast, 'cause this one's a fart. End of line.
Last Updated on Monday, 20 April 2009 21:55