The classics continue...
Written by Arcot Ramathorn
Friday, 06 February 2009 17:53
Well, since the games span more than one room around here, We'll throw another vid up here with a few more machines. This video showcases our Klax, Street Fighter II, A.P.B. (now Witchboard's) and NFL BLitz 2000 machines. The Power Glove brought his little cousin Austin over to beta test 'em. This video was shot in low light on my still missing Casio Exilim. Oh yeah, if anyone happens to find it could you please return it? It's tough to do your reviews when your camera has been lost/stolen/misplaced/who the hell knows. As always, thanks for coming by and I'd love to hear your feedback in the forums! Have a great weekend- we'll be out participating in the 24HR video race!
Last Updated on Wednesday, 10 June 2009 00:47


Marble Madness Maniac!

Written by Arcot Ramathorn
Thursday, 05 February 2009 23:43
This guy has truly become a champion at Marble Madness, one of the tougher games of our time, that uses a trackball.
I'll let the following video speak for itself. I hope you're also enjoying a tall PBR.
Last Updated on Wednesday, 10 June 2009 00:44


The Power Team

Written by ThePowerGlove
Tuesday, 03 February 2009 16:02
Edlich and I are teaming up to bring you the latest and oldest gaming updates available. Between the two of us and a few other team mates we will have loads of news coming at you. Any one want to donate a PS3 and/or a Wii or any console for that matter for testing purposes? Edlich even has a new prototype that we will be reviewing.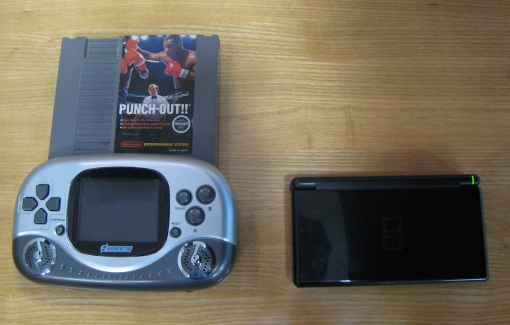 Last Updated on Wednesday, 11 February 2009 15:43


A few of the classics to get us started.

Written by Arcot Ramathorn
Sunday, 01 February 2009 15:26
Heres a look at just a few of my machines, to get us started off.    Keep in mind this is just one room! 
  I'm really putting a lot of effort toward getting console stuff organized-staring down the barrel of a huge move, with everything 'scattered, smothered & covered'.  Featured in this video are our Karate Champ, Moon Patrol, Cyberball, NARC, Xevious, Galaga & the cleanest Pole Position you may ever see still functioning- with its original computer from 1980. 
These machines are all fully restored dedicated originals, kept in the best possible shape and routinely maintained.  I'm not saying I crawl inside them and jerk off or anything, I just take good care of my stuff.  And if you've ever bought a machine from me I'm sure you'll agree.  We're tossing around the idea of having 'open game days' (after we move to our bigger location, of course) where site members can come in & play some of the machines and compete for forum high scores here on the site.  Anyone interested can contact me at This e-mail address is being protected from spambots. You need JavaScript enabled to view it and we'll chat.
For the High Scores Tourney, I've updated the full list of current games that we can compete in at our gameroom in the classic gaming section of the forums. 
Next week:  Our retrogaming feature will take a console turn & we'll give a full review of the FC micro, a concept from Ben Heckendorn, the king of all console mods. Yeah, we got one.  Imagine:  Slugging your old 8-bit NES cartridges into a handheld unit about the size of a PSP!  Core, just core.  No wait- classic too.  I can take Marble Madness & Bionic Commando on the go?  Sheeeeit.  And- the PowerGlove has been researching another pearl of an add-on for this as well!  Stay tuned- you wont want to miss this.
I want you to take all of this, the excruciating 8-bitness of it all, and put it inside your TV remote!! 
We'll show you next week!  If U.P.S. shows up.  ( and they usually do.)
As always, feel free to discuss any of our articles in the forums.  Cheers & dark beers,
Justin
Last Updated on Friday, 06 February 2009 18:10


A place for my stuff.

Written by Arcot Ramathorn
Wednesday, 28 January 2009 23:46
I'm still running around helping other staff writers and trying to stay on schedule, but when we launch, this is where I'ma keep my stash.
Incidentally, I turned on the 2600 the other day and it spit this out.  What does that mean?  Hopefully the launch goes well.  ((shudder))
We shall soon see.
Last Updated on Friday, 06 February 2009 18:11
Micro Cabs
Nothing Star Trek here (though there is here:http://www.geocities.jp/ikenohata2005/papermodel2-e.html)
This section will detail the ways and means that standard online paper craft models can be bling'd out !
What do I mean ?
The standard and quite wonderful 5.5" high arcade models can be found here: http://wayoftherodent.com/gd101/bs_paperarcade.htm
With extra models here: http://wayoftherodent.com/pa/pa_staff.htm
But, with careful use of house siding, ex bathroom formica or simply gluing strengthener card to a printout, the models can become much more robust.
Add a few electronics (which i'll detail) and you can get.........